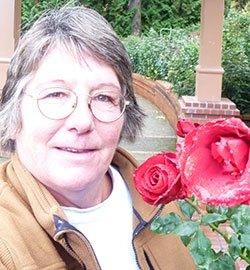 Helen Marie McGranahan
Custer, SD
October 18, 1959 - August 3, 2013
Helen Marie
McGranahan, age 53, of Custer, SD, passed away August 3, 2013.
Helen was born in The Dalles Oregon on October 18, 1959, to Veril and Claire Kelly and grew up near Maupin on the family ranch. She graduated from Wasco County Union High School and received an AA degree in Horticulture from Mount Hood
Community College. Helen married Greg McGrananhan in 1985 and the couple moved several times with the US Forest Service arriving in Custer South Dakota in 2002. Her work experience included jobs with the Forest Service, Bureau of Land Management and in the private sector. She thoroughly enjoyed working in the field with plants and natural resources.
Helen had many talents and skills, she truly loved her gardens, animals, writing, photography, cooking and baking. She was a Master Gardner through the SDSU Cooperative Extension Service and member of the Custer County Master Gardner's. Helen loved to promote the use of native plant species and often published articles in the Custer County Chronicle as well as blogs on a myriad of
subjects. Survivors include her husband;
Gregory McGranahan of Custer SD, father; Veril Kelly of The Dalles, Oregon, sisters; Irene (Jim) Jerome of John Day,
Oregon, and Laura (Al) Mitchell of Auburn, Washington. Additional
survivors include sister-in-law; Pam (Mike) Dummet, nieces; Amanda, Kate, Tasha, Michele, and nephew, Tyler. She counted many people as friends from Oregon to Iowa, and parts in between.
Memorial services will be held at 1:00 PM, Saturday, October 5th, 2013, at Maupin City Park.
A memorial has been established in Helen's name to benefit the Juniper Flat Rural Fire Protection District, 80501 Hwy 216, Maupin, OR 97037, or Custer County Master Gardner's.
Services for Helen Marie McGranahan