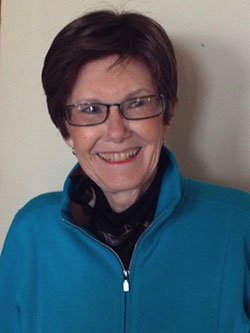 Judith Hunt Sawtell
Redmond, Ore.
March 17, 1941 - July 27, 2013
Judith (Hunt) Sawtell, age 72, passed away in her home in Redmond, surrounded by her family, at
approximately 10pm on July 27th, 2013 after a thirteen month struggle with pancreatic cancer.
Judith was born at The Dalles Hospital on March 17th, 1941 to James (Jim) and Mary (Sigman) Hunt. She spent her childhood in Dufur and was active in 4-H, amongst other hobbies. After graduating Dufur High in 1958, she attended Oregon State University to begin her studies as a nurse.
Following that, she was accepted into nursing school at Emanuel
Hospital in Portland.
She married her
husband, Douglas Sawtell in November 1960. Due to a no-married-students policy at her nursing school, she was unable to continue with her studies. She and Doug remained in The Dalles until 1977 when they moved to Sandy, Oregon.
She gave birth to three children, Susan, Jill and Jim, and devoted herself to being a mother and wife. She still found time to take on the occasional job, and enjoyed spending summers working in the cherry orchards during harvest time. She also worked part time at the US Bank, as well as helping out at her cousin Bud Sigman's flower shops during the
holiday seasons.
Judy is survived by her husband Doug, her two children, Susan Dahrens of Gresham, James (Jim) Sawtell of Sandy, as well as her Brother Jim Hunt of The Dalles, grand-daughter Ashley Regnier of Bend. She has many cousins and nieces and nephews in The Dalles, Dufur and Prineville area, as well as from Tennessee.
She is preceded in death by her daughter, Jill Sawtell, father and mother.
There will be a grave-side service on October 5 in The Dalles at the Odd-Fellows Three Mile Cemetery for family and close friends at 2pm. This will be followed by a celebration-of-life at the Civic Auditorium on Fourth Street in The Dalles.
Judy was passionate about kids and about finding a cure for pancreatic cancer. To honor her, gifts in memory of Judy can be made to Doernbecher Children's Hospital or the Knight Cancer Institute at OHSU, c/o OHSU Doernbecher Foundation, 1121 SW Salmon St., Suite 100, Portland,
OR 97205.

Services for Judith Hunt Sawtell
October 5, 2013

Graveside service: 2 p.m.