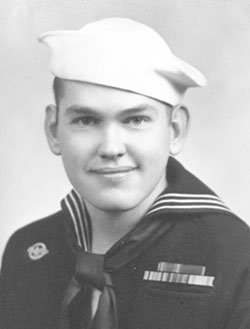 Vernon T. Anderson
The Dalles, Ore.
November 23, 1921 - September 7, 2013
Vernon Thomas Anderson, 91, of The Dalles, went home to be with the Lord on Saturday, September 7. 2013 at OHSU in Portland.
Vernon was born November 23, 1921 in Trafton, Washington to Edwin Benjamin and Nellie
(Jefferson) Anderson. When he was 16 years old he went to work on the Magill ranch in Wamic. He worked there until he was called into active duty in the Navy Seabees in 1942. His military service during World War II had a great impact on his life and even up to the end he could tell you the day and dates of all the events. Some of those events where shipping out on the Queen Elizabeth to
England and then on to Freetown, Sierra Leone, Africa where the next ship coming into the harbor was sunk by a German sub. From there on to Casablanca to assist the army in a big battle which was where half of the group contracted malaria. Then his 40 day trip at sea from California headed for Okinawa and once there the air raids, earthquakes, typhoon with 140 mph winds, the war, being scared when the big guns and tracer bullets went off only to find out later that it was the
celebration that the war ended. After that he returned to work on the ranch but he never forgot what this country meant to him as he was an active lifetime member of the VFW.
On October 18, 1948, he married Vonna Morrow in Goldendale, Washington. They moved to The Dalles in 1951 where he worked at the Baxter Tie Plant before going to work for the Union Pacific Railroad where he retired from in 1983. He was life member of the Brotherhood of Maintenance of Way Employes, The Dalles Lodge 369. He served as secretary treasure 29 years and also as President and local chairman.
He donated many hours of labor including his vacations to build The Dalles Nazarene Church under L.C. Schwanz and the start and construction of Camp Morrow in Wamic. He also served in many capacities at both locations. He loved serving the Lord and using his many talents where they were needed.
He had a great love of the outdoors as was evident in his many hunting, fishing, yard work and gardening stories. He was always ready to lend a helping hand to friends, family and those in need.
Survivors include Vonna, his loving and faithful wife of 64 years,: children and spouses: Jill and Phil Hayden-The Dalles, Jerry and Sherri Anderson-LaGrande, siblings: Lillian Brachtenbach –Portland, David and Billie Bryant- Redmond, Harlan Bryant - Portland, Alice Bryant- The Dalles, and Lila Mitchell- Moro, Gordon Anderson- England, Joann and Lyle Snell -Alabama Grandchildren: Logan
Anderson, Nathanial and Kimberly Clark, Kendall Hayden, Christiana and Darrell Russell, and two
great grandsons plus MANY nieces and nephews. He was preceded in death by his
parents and brothers Vernon Lloyd, Alan and Kenneth and sister Joyce.
The Memorial Service will be held on October 12 at 2 pm at the First Church of the Nazarene, 1313 Mount Hood Street in The Dalles. Memorials may be made to Camp Morrow and The Dalles Nazarene Church.

Services for Vernon T. Anderson