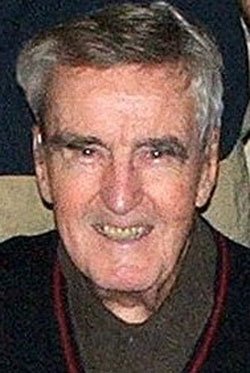 James Francis Whalen
The Dalles, Ore.
February 8, 1923 - September 7, 2013
James Francis Whalen, 90, died Saturday, Sept. 7, 2013, at sunrise in The Dalles, Ore.
He was born Feb. 8, 1923, in Queens, N.Y., the oldest of four children to John and Catherine Whalen. He grew up in New York City playing stick ball in the street and later semi-pro baseball. Upon the outbreak of World War II, he enlisted in the Air Force and served as a flight navigator. After his tour of duty he returned to New York and attended St. John's University, a recipient of the GI Bill.
He loved New York in all of its essence: dinner at the Four Seasons, horse races at Saratoga Springs and Belmont Raceway, his office across the street from the New York Public Library. He was an executive marketer in the food and beverage industry.
He then moved to Boston where he raised his family in their home on Commonwealth Avenue. Winter weekends were spent driving to a family retreat in Waterville, N.H., to enjoy the beauty of New England and nurture a family love of skiing. Upon retirement, he moved to Naples, Fla., where he was an active member of The Glades Golf Community and enjoyed sunsets at the Naples Pier.
He was a master of the art of conversation, loving the give and take of political conversations, frequently gleaned from his reading of the New Yorker and New York Times.
He is survived by his son Shawn Whalen and his wife, Catherine, and Pierce Whalen, The Dalles; his son Kevin Whalen, Boston Ma.; his sister Joan (Whalen) Brown; brother Joe Whalen; his sister Pat (Whalen) Frank and her husband Steve, all of Naples, Fla.
A funeral mass and memorial was held Sept. 20 at Saint Anne Catholic Church.