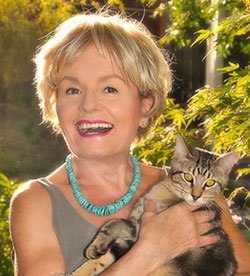 Joy (Heidrun) von Buschow
The Dalles, Ore.
unknown - September 13, 2013
Joy von Buschow, 69, died Sept. 13, 2013, surrounded by her friends and doctor.
She was born in Berlin, Germany, during World War II and grew up in post-war West Germany. She emigrated to the United States in 1961 and settled in Salt Lake City for a short time. She then moved to the San Francisco Bay Area, where she studied and apprenticed in goldsmithing. She also traveled to Japan to study metal sculpture. In 1975, she opened her very successful goldsmith studio and showroom. She operated her business for over 15 years.
In 1993, she moved to Hood River and completed massage school. She was a massage therapist and life coach in the Columbia River Gorge until her illness (cancer) made her work impossible. Recently, she resided in The Dalles with her kitties and surrounded by her garden.
She is survived by her sister, Helga and Helga's daughter, Andrea, two brothers, Horst and Hilmar, and her nephew, Stefan and his wife, Missy.
A memorial service is planned Saturday, Sept. 28, at noon at the Riverside Community Church in Hood River.
Services for Joy (Heidrun) von Buschow