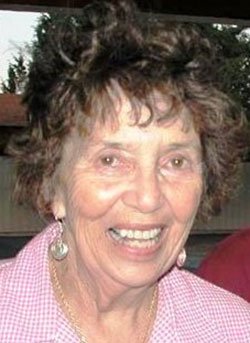 Donna Jean Culpepper
Dallas, Ore.
September 21, 1928 - April 6, 2014
Donna Jean Culpepper, 85, died Sunday, April 6th in Dallas, Oregon. Born September 21, 1928, she was the daughter of Edgar Madison Meadows and Zada Nevada Stanton. Donna Jean as she was known all of her life lived as a young girl in lumber camps near Chemult, Seneca, and Burns. She attended a one-room school house and had a great love for the "woods" which she passed on to her children and grand-children. In 1946 she graduated from Crook County High School located in Prineville, Oregon. She married her high school sweetheart, William J. "Bill" Culpepper October 27, 1946 in Prineville after his return from World War II.
The family moved to The Dalles, Oregon in 1957 where they lived until 1989 when her husband retired and they spent a year traveling in their RV seeing the United States. For twelve years they spent 6 months of the year in Mesa, Arizona and 6 months in Oregon. They celebrated their 50th wedding anniversary in 1996. Her beloved husband, Bill Culpepper passed away May 31, 2002. Donna Jean made her permanent home in Arizona until 2009 when her children moved her to Dallas, Oregon.
Skilled in bookkeeping, she kept books for Murhead Cannery, Montgomery Wards, Carnation Milk Company, and The Army Corps of Engineers at both The Dalles and John Day Dams.
Her fondness for the outdoors led to physical activities such as swimming, tennis, skiing, hiking in the desert, water aerobics, and camping with the family. A tiny little woman, she never seemed to lack energy or a smile on her face.
Donna Jean Culpepper joined The Church of Jesus Christ of Latter-Day Saints in 1949 and her family was sealed together forever in the Mesa Arizona Temple in 1955. She was an active member all of her life and had a tremendous love for her Savior, Jesus Christ.
She was a wonderful mother to her five children who survive her: JoAnne Haugen (Floyd) of Dallas; Jerry Culpepper (Carla) of Prineville; Jim Culpepper (Patty) of Boise, Idaho; John Culpepper (Tonia) of Canby; Jan Williams (Mark) of Hood River. Mrs. Culpepper had 13 grandchildren and 12 great-grandchildren. She was predeceased by her parents, husband, and one brother, Byron.
Funeral services were held Saturday, April 19th at 9 am at The Church of Jesus Christ of Latter-Day Saints in Prineville, Oregon. Burial took place at Juniper Haven Cemetery in Prineville. The Dallas Mortuary Tribute Center is caring for the family. To leave a memory or message for the family please go to www.dallastribute.com.

Services for Donna Jean Culpepper