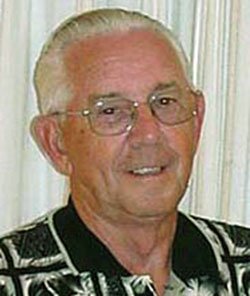 Kenneth T. Walker
The Dalles, Ore.
December 9, 1940 - August 14, 2014
Kenneth T. Walker, 73, of The Dalles departed this life on August 14, 2014, in his home surrounded by his family. He was born on December 9, 1940, in Portland Oregon.
He married his high school sweetheart, Deanna Severson on July 2, 1960, in Parkdale, Oregon. He served in the United States Army in the 82nd Airborne. He owned his own Chevron Station in The Dalles on 2nd Street for several years and later went on to work for UPS as a driver. When he was promoted to District Manager, he moved his family to Aloha, Oregon and remained there until he retired in 1994.
He loved golf and was a member of The Dalles Country Club where he played several times a week. He loved cars and owned two Dodge Chargers. Ken also enjoyed taking trips in his RV with his wife, traveling frequently to Boulder City, Nevada where they owned a second home. He also enjoyed his trips to Branson, Missouri.
Ken is survived by his loving wife of 54 years, Deanna Walker, and three children- son, Mike Walker and his wife Sandy of Hillsboro; daughter, Julie Mozingo of The Dalles; and son, Cliff Walker and his wife Beth of Boulder City, Nevada and his sister, Darlene Roberts and her husband Ted of Hood River, Oregon. He is also survived by nine grandchildren, Jeff and Greg Walker; Corey, Ryan, Jennifer and Chelsea Engard; and Josh, Jessie, and Jake Walker and also three great grandchildren, his beloved dogs Lucy and Binky, and numerous nephews, nieces and cousins.
Services will be held Saturday, August 23, 2014 at 11:00 a.m. at Faith Lutheran Church in The Dalles. The family suggests any donations be made to Celilo Cancer Center or Faith Lutheran Church in The Dalles.