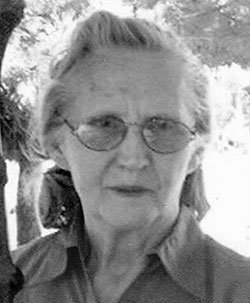 Carol Jean Griess
The Dalles, Ore.
June 18, 1936 - August 18, 2014
Carol Jean Griess, 78, a resident of The Dalles, Oregon died Monday, August 18, 2014 at a local assisted living facility.
Carol was born June 18, 1936 in Bruno, Nebraska to Theodore and Josephine (Busek) Coufal. She attended school through the eighth grade and then completed her GED in the 1950's. She enjoyed baking, sewing, gardening and canning.
Carol is survived by her twelve children, Judy Kay, Jack, Judy Ann, Julie, Tobias, Jessica, Juanita, John, Joe, Josephine, Junior and Carolyn. Thirty-four grandchildren and thirty-three great grandchildren with more to be expected also survive.
Services will be held Saturday, August 23, 2014 at 3:00 pm at Spencer, Libby and Powell Funeral Home. A Celebration of life reception will be held from 4:00 pm until 6:00 pm at 1501 E. 12th Street.