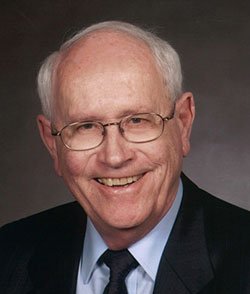 Raleigh Sansom McVicker
Bremerton, Wa.
April 13, 1932 - August 9, 2014
Raleigh Sansom McVicker passed away peacefully in his sleep at home on Aug. 9, 2014. He was born on April 13, 1932 in The Dalles, Ore. to Raleigh and Lydia McVicker. On July 11, 1954, Raleigh McVicker and Nancy McVicker (Trigg) exchanged wedding vows at the First Presbyterian Church, in Lebanon, Ore. They were blessed with 60 years together.
He is survived by his wife, Nancy McVicker; sons, Michael and his wife Anna of Portland, Ore., and Thomas of Bremerton, Wash.; grandchildren, Lon and his wife Amy, Marne Robertson and her husband Jeremy; great-grandchildren, Tea and Alena McVicker, and Tullia and Teagan Robertson; two sisters, Mary Reilly of The Dalles, Ore., and Margaret Marshall and her husband Ned Raleigh of Hood River, Ore. Raleigh was preceded in death by his brothers, Donovan and Jim McVicker.
Raleigh graduated from The Dalles High School and received his undergraduate degree in music from Lewis and Clark College in Portland, Ore. He received his master's degree from the Eastman School of Music in Rochester, N.Y. where he studied with David Craighead on the pipe organ.
He began his teaching career in choral music at Astoria High School, and also taught at Milwaukie High School, both in Oregon. He finished a very successful career in choral music education in 1987 at Olympic College, in Bremerton, where he taught for 27 years. In 1987 he was presented with the first-ever Olympic College "Faculty Recognition Award" and in 2000, was inducted into the Olympic College "Hall of Fame". He was an active member of ACDA (American Choral Directors Association), and was in demand as an adjudicator, clinician, and music reading session presenter. In 1987 he also took the lead role in Olympic College's 40th Anniversary Celebration. He organized and rehearsed a group of 175 community and college students including instrumentalists, singers, soloists, and a narrator. They performed a commissioned work entitled "The Tale of The Rings Of Power" composed specifically for this event by Thomas Peterson.
In addition to his teaching career, Raleigh was extremely involved in his church and community. He attended Summit Avenue Presbyterian Church where he played pipe organ for over 40 years and was the minister of music for many years. In addition he was involved in getting a new pipe organ for the church in the early sixties, was responsible for updating the church's sound system, was a Deacon and Elder, and continually fostered musical opportunities and growth for both the youth and adults. He enjoyed going on summer hikes in the Olympic Mountains with the church youth group. Raleigh and his wife Nancy also donated numerous hours of their time to help landscape and maintain the church yard. Working in the yard both at church and at home was one of his favorite hobbies.
In the community, Raleigh rehearsed and directed the Bremerton Community Chorus for many years. The chorus performed both on its own as well as with the Bremerton Symphony. He also helped the Boy Scouts, assisted with coaching North Perry Peewee baseball, was a member of the Kitsap Genealogy Society, and served as Dean of the Kitsap County AGO (American Organist Guild) Chapter.
A memorial service was held at Summit Avenue Presbyterian Church at 10 a.m. on Wednesday, Aug. 20, 2014. In lieu of flowers, remembrances may be sent to Summit Avenue Presbyterian Church at 403 S. Summit Ave., Bremerton, WA 98312.