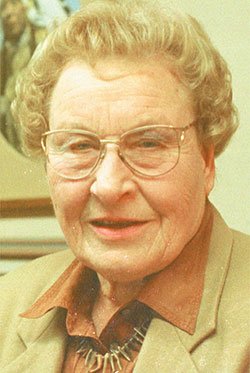 Wilma Louise Roberts
The Dalles, Ore.
February 11, 1914 - August 22, 2014
Over 100 active years of life came to close on Friday, August 22, 2014, as Wilma Roberts passed away at her home in The Dalles. Wilma was noted for her scenic and horse drive photographs and for her hand colored pictures of historic Celilo Falls. For many years she operated Wilm's HangUps photo gallery on East 2nd Street in The Dalles.
Wilma was praised for her keen sense of composition, color, and the use of light in her photographs. She specialized in scenic photographs of the Mid-Columbia area and her pictures of horses. However, she also did a variety of other photographic styles. Her gallery featured her own photographs as well as antique photographs of Celilo Falls and various scenes around the area. Among the most popular photos at her shop were her hand colored photographs of Celilo Falls and a wheat harvest scene of an old combine being pulled by a team of mules. Wilma's pictures hang throughout the Commodore Building, in the lobby of the Columbia Bank, and in many other establishments around The Dalles.
Wilma Louise McCarty was born in her grandfather's house on East 8th Street in The Dalles on February 11th, 1914. However, she was raised on the McCarty homestead on Butter Creek in Eastern Oregon where her family home had no electricity or running water. She rode her horse several miles to school each school day to a one room school house from which she graduated before attending Oregon Agricultural College (now Oregon State University).
After one year of studying art, Wilma met and married Lawrence Roberts and the couple moved to Montana where Lawrence worked on the Fort Peck Dam. Upon returning to The Dalles, Lawrence took a job with the Union Pacific Railroad and Wilma worked seasonal jobs in the fruit industry and at the Seufert salmon cannery. In 1939, Wilma gave birth to her son, James. She then started doing part time work hand coloring the black and white photographs for the Elite Studio in The Dalles.
In 1939, Wilma suffered a severe hearing loss when she received sulfa drugs for what likely would have been a fatal infection. She lost all hearing in one ear and most of the hearing in the other.
In 1946, the owner of the Elite Studio asked Wilma if she would help the owner's son, who was opening a camera shop, for one day. Not only did she work that day, she continued working at Mel O's Camera Shop for the next 35 years. Despite the severe hearing loss, Wilma was able to manage the camera store as well as to wait on and assist customers. Using the primitive hearing aids of the time, she was also able to become president of The Soroptimist Club in The Dalles and The Dalles Camera Club as well as to participate in photographic seminars around the country.
Instead of retiring, Wilma took over the upstairs rooms of Mel O's Camera Shop to establish her own photographic gallery that she named "Wilm's HangUps" and which featured her own hand framed photographs. She continued with Wilm's HangUps until she was 94 years of age
In the 1960's, Wilma joined with Mel Olmstead and Phil Tyler to start a photographic seminar called "Old West Seminars for Photographers," which drew photographers from around the world. The highlight of the seminars was a horse drive held in Bend, Oregon. After Mel Olmstead died in 1980, Wilma continued the horse drive portion of the seminars, renaming it the "Old West Horse Drive". Photos from the horse drive have been featured prominently in calendars, articles, and advertising for many years and the seminars were featured in programs on PBS and Portland TV stations. Wilma continued to conduct these seminars until she was 92, when she turned it over to others.
Wilma gave seminars and slide shows at camera clubs and photographic events throughout the United States. For over half a century, she actively participated in The Dalles Camera Club where she won numerous awards. She was active in the Photographic Society of America and was very proud to have been selected as a Fellow of that organization.
Wilma continued going out into the field to take scenic pictures until she was in her mid-90s. A couple of years later, she gave up photography as her failing eyesight meant she could not compose the pictures she wanted to take.
Wilma finally succumbed to the ravages of old age following a few months of slow decline after suffering a broken hip on her 100th birthday.
Wilma is survived by her son, James (Casey) Roberts, and her faithful cat "Puddy." No funeral will take place. Instead, a commemorative event will be held in the near future to celebrate Wilma's photography and her life. Donations can be made to the Wilma Roberts Memorial Scholarship Fund at the Columbia Bank in The Dalles.