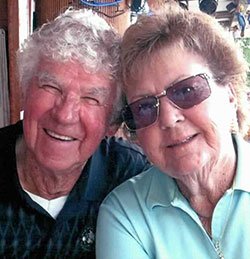 Florence Alice Bones
Salem, Ore.
April 25, 1933 - February 21, 2014
Born and raised in central Oregon, Florence graduated from Redmond High School in 1951.
As a teenager, she worked as bank teller and was a finalist in the Miss Redmond beauty pageant. She was a catch.
On June 15, 1952, she married J.H. Bones of Brownsville, Oregon.
Florence devoted her life to raising a family and making a home. She enjoyed spending time with her children and grandchildren, golfing, traveling, and baking. She was blessed with an artistic eye which inspired her painting and drawing.
Florence is survived by her husband Harvey; sister Joann Kuhn; children Susan Huntington and husband David, Steve Bones and wife Karen, Brian Bones and wife Carol, Larry Bones and wife Cheryl; grandchildren Alix Huntington, Ryan Huntington, Spike Huntington-Klein and husband Nick, Jeremy Bones, Mercedes Bones, and Kassandra Bones; and great-grandchildren Jordan Huntington, Jasper Huntington, Milo Huntington, and Emry Seal.
Florence was loved by many and she will be dearly missed.
A funeral service will be held Saturday, March 1, 11 am at Restlawn Funeral Home Chapel, 201 Oak Grove Road NW, Salem. The casket will be open one hour before the service. Private interment at Restlawn Memory Gardens. Farnstrom Mortuary is caring for the family. Please share your memories, stories, photos and condolences at FarnstromMortuary.com.

Services for Florence Alice Bones