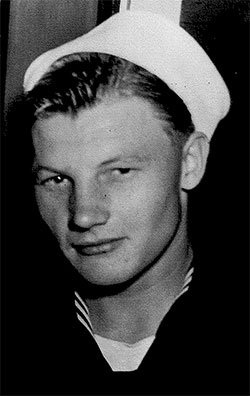 Wesley "Gene" Eugene Roberts
Grants Pass, Ore.
September 1, 1926 - February 9, 2014
Wesley Eugene "Gene" Roberts of Grants Pass Oregon passed away Sunday, February 9, 2014, in Bend, Oregon. A graveside service will be held Saturday, March 1st, at 1:00 pm at the Mosier Cemetery in Mosier, Oregon with a celebration of life to follow at the Mosier Grange.
He was born September 1, 1926 in Echo, Oregon to Sherman Thomas Roberts and Susie Knowlton Roberts. He grew up in the Hermiston area. At age 16 he joined the Navy during WWII and served in the South Pacific as a Gunners mate. After serving in the Navy he relocated to Mosier, Oregon, to work at his brother Joe's sawmill. Later he went into the Fire Protection Sprinkler business. He lived many years in Aloha, Oregon and moved to Grants Pass, Oregon, in 1969 to start his own Fire Protection Sprinkler Business which he operated until he retired.
He was married to Gladys Webb Roberts of Mosier, Oregon for many years. He is survived by his wife Geraldine, two children, Wes Roberts of Grants Pass, Oregon and Bonnie Hough of Bend, Oregon and one grandson, Jeffrey Roberts and one granddaughter, Haylie Hough. He is also survived by a step-son and step-daughter and many Step-Grandchildren, Step-Great and Great-Great-Grandchildren.

Services for Wesley Eugene Roberts
March 1, 2014

Graveside service: 1 p.m.