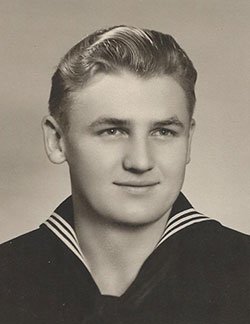 Lyle H. Rasmussen
Battleground, Wa.
July 21, 1922 - December 31, 2013
Lyle H. Rasmussen, 91, of Battle Ground, formerly of The Dalles, OR, passed away Tuesday, December 31st, at home.
Lyle was born July 21, 1922, to Christian and Hildur (Eklund) Rasmussen, in Glentana, MT. He was raised in Roseau County, MN until his mother died in 1926. He lived in Oregon with relatives for a few years until moving to Milton-Freewater, OR., where he graduated in 1940 from Mac High School and then attended the University of Washington. He moved to The Dalles, OR and married Vivian Louise Morgan on Aug. 10, 1951. They built a house in The Dalles and lived there until moving to Vancouver, WA in 2012 to be near their daughter. During World War II, Lyle was an Aviation Electronic Specialist in the Navy and honorably discharged 1946. He worked for Pacific Northwest Bell in Toll (long distance), retiring in 1984. He enjoyed building, cutting firewood and spending time at their Gearhart, OR beach house.
He is survived by Vivian, his wife of 62 years, of Battle Ground; daughter, Cristie (William) Zorich, of Battle Ground, WA; granddaughter Jessica Zorich, of Seattle, WA; sister, Marieta Kaszyk, of Gulfport, FL.; several cousins, nieces and nephews.
He was preceded in death by his parents; step-mother, Marieta Rasmussen; and brothers, Clifford, Clare and Harold Rasmussen. A memorial service will be held at a later date.