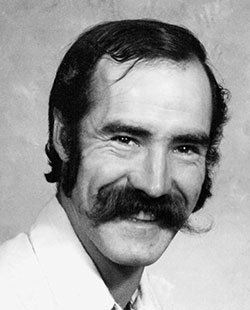 Richard Winfield Smith, Jr.
Portland, Ore.
November 23, 1948 - January 10, 2014
Richard Winfield Smith, Jr., known to most as "Rick," passed quietly from this life on January 10, 2014 at a hospital in Portland, of natural causes
Rick was born November 23, 1948 in Midland, Texas to Richard Winfield Smith and Lola Elizabeth (Gough) Smith. His mother died when he was 5. His dad, a salesman, moved Rick and his two sisters around the southwest a lot, but the place Rick felt to be his hometown was Ruidoso, New Mexico, home of the world's richest horserace, he'd tell you with a smile.
Rick came to the Gorge in 1972, and lived here most of his life. There was a spring in his step and a twinkle in his eye. He had a big handlebar mustache, an engaging personality and a story for every occasion. He loved to laugh, he helped pave roads in the Gifford Pinchot, and he loved to hunt and fish.
He married Sally Adkisson in 1974, when he worked for Ray's Auto Parts in Bingen. The couple moved to The Dalles in 1976 and had two children. He worked for Greenline, the John Deere dealer until it folded, then started his own repair shop. He was a very skilled mechanic and could fix anything from cars to combines to semi-trucks. He suffered a traumatic brain injury while working in his shop one night in 1985. The cause was unknown, but the result was devastating.
He and Sally divorced in 1986, but he stayed in touch and Rick loved his kids more than anything in the world. He came to their weddings and was proud of them.
Rick is survived by his children Claire (Robert) Graper, of Portland and Colin (Lurel) Smith, of The Dalles; his sister, Sandra Blann of Las Cruces, NM; and three precious grandkids: Jonathan Graper, Ilaina Smith and Zane Smith.
A memorial is planned next July 4 weekend for family and friends. Donations may be made to Home At Last or Portland Rescue Mission.