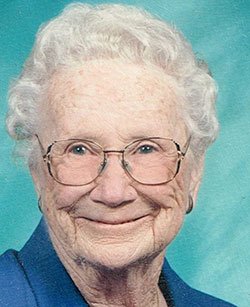 Eva B. Holcomb
The Dalles, Ore.
November 15, 1917 - January 22, 2014
Eva B. Holcomb, 96. Passed away in her sleep January 22, 2014.
Eva was born November 15, 1917 in Kadoka, South Dakota, the youngest daughter to Charles and Wilamenia Sharp. In April 1937, she and Paul Holcomb were married. Paul and Eva followed the Columbia River working on different dams. She enjoyed her family and being a housewife, flowers and camping with the family.
She was preceded in death by her husband Paul and son George. Eva is survived by her son Wayne Holcomb of Elgin, Oregon her daughter Yvonne Holcomb of The Dalles, Oregon and her daughter in law Linda Holcomb. Seven grandchildren, eleven great grandchildren and five great great grandchildren also survive.
Visitation will be held on Sunday, January 26, 2014 from 3:00 to 5:00 pm at Spencer, Libby and Powell Funeral Home.
Services will be held Monday, January 27, 2014 at 11:00 am at Spencer, Libby and Powell Funeral Home. Interment will be at I.O.O.F. 18th Street Cemetery.

Services for Eva B. Holcomb