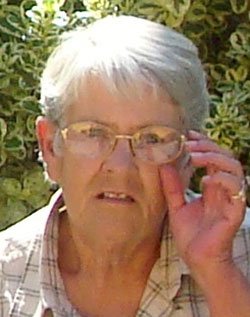 Glenda L. Toop
Yakima, Wa.
January 28, 1941 - January 23, 2014
Glenda L. Toop, 72, of Yakima, died Thursday, January 23rd. She was born to the late Charles and Elizabeth Hammerstad on Jan. 28, 1941, in Yakima, WA. Glenda is survived by her daughter, Brenda Todahl of Seattle, her son Darrin Toop and his wife, Polly of Murrieta, CA., six grandchildren and one great grandchild, and two brothers Charles Hammerstad of Tri-Cities and Bob Hammerstad of Spokane. She was preceded in death by her brother Gary Hammerstad, daughter Jodi Toop and husband Eugene Toop.
Glenda and Gene moved from Yakima to The Dalles in 1976 with every intention of returning to and retiring back in Yakima. After Gene passed away in 1999 Glenda lived out their dream by returning to Yakima herself.
Glenda devoted her life to raising, educating and caring for children. She was a mother to many. She loved gardening, but roses were her specialty, raising over 28 different types. She cared about everyone she met and would often turn a simple acquaintance into a lifelong friend.
Glenda especially loved spending time with family and friends and was always there to lend a helping hand whether it was organizing events, playing games, cooking or even cleaning!
A Graveside Service will be held at Terrace Heights
Memorial Park (3001 Terrace Heights Dr, Yakima, WA.) on Friday January 31st at 11 am.
Arrangements are in the care of Langevin-Mussetter Funeral Home in Yakima, WA. There will be a Memorial Repast and potluck immediately following the service at the Terrace Heights Grange Hall located at 3701 W. Birchfield RD. 1.5 miles south of the cemetery.
In lieu of flowers, the family is requesting that donations be made in Glenda's name to a woman's shelter, cancer research center, or a homeless shelter of your choice.
To share a memory of Glenda, visit www.LMFuneralhome.com.

Services for Glenda L. Toop
January 31, 2014

Graveside service: 11 a.m.