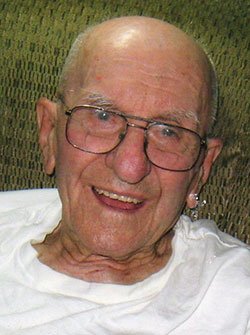 Burdette "Pick" Howard Pickens
The Dalles
August 16, 1912 - January 29, 2014
Burdette H. Pickens, better known as Pick, a resident of The Dalles passed away on January 29, 2014, at the Oregon Veterans Home in The Dalles at the age of 101. He was born on August 16, 1912 to Velura and Scott Pickens in Hancock, Ohio. He grew up in Findley, Ohio. He served in the Army from 1942 -1946. He then moved to Portland, Oregon and worked as a shoe repairman and then worked for the Union Pacific Railroad eventually moving to The Dalles to work as a hostler helper in the local railroad yard. He worked for the Union Pacific Railroad from 1950 retiring in 1974. He Married Maxine Hays Compton on June 20, 1956. She passed away September 6, 2008. Together they cared for Celilo Park for eleven years. He worked as a courtesy driver for Sunset Motors after his retirement. He was a member of First Christian Church in The Dalles, the American Legion, and the Retired Railroaders Association.
Pick loved to putter and tinker and to go to yard sales every week buying something at each one. He read three newspapers a day and loved to watch the Trailblazers. The last few years he enjoyed going for rides remembering many details about the town. He was a great teaser of his kids, grandkids, friends and caretakers keeping his sense of humor until the very end.
Pick was preceded in death by his wife, Maxine, his parents, his brother Paul, sisters Coral, Maxine and Clarice.
He is survived by his son and daughter-in-law, Carl and Diana Compton, Grandson Craig (Linda) Compton, Granddaughters Shawna (Ed) Ortega, Kari (Scott) Peters, Great Grandchildren, Bailey, Eliana, and Emma Ortega, Paige Compton, Kaelex and Kiara Peters, three nephews and a niece.
A celebration of Pick's life will be held Monday, February 3, 2014 at 11:30 A.M. In Jean's Room at the Oregon Veterans Home. Donations can be made to the Oregon Veteran's Home or Home at Last for animal rescue.

Services for Burdette Howard Pickens
February 3, 2014

Celebration of Life: 11:30 a.m.