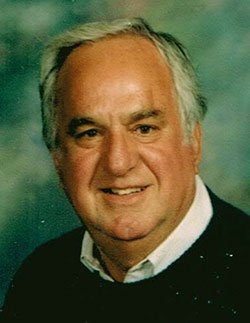 Samuel J. Ciranny
The Dalles, Ore.
November 28, 1927 - July 3, 2014
Sam was born in Centralia, WA, the youngest of five children of Angelo and Teresa Ciranny. He passed away at the age of 86 at the Oregon Veteran's Home.
He graduated from Washington State University with an electrical engineering degree. After college he entered the Army Signal Corp at Camp Gordon, Georgia, from 1950 to 1952. He went to work for Bonneville Power Administration as the district engineer in The Dalles in 1952 and retired in 1982.
Shortly after moving to The Dalles he met Marilyn Zodrow on a blind date and they married on February 19, 1955. They would have celebrated their 60th anniversary this coming winter. They had four children, Craig, Vicki, Lisa, and Jan.
He was a member of St. Peter's Catholic Church, the Knights of Columbus, the Eagles, and Mid-Columbia Senior Center. He enjoyed woodworking, big and little construction projects, and community service through many organizations, including the American Red Cross, St. Mary's Academy, and Meals on Wheels.
He is survived by his wife, Marilyn; son Craig Ciranny; daughter Lisa Ciranny; daughter Jan Nordlund; son-in-law Chris Nordlund; grandchildren Alec and Emma Nordlund; brothers Nick Ciranny of Issaquah, Wash, and Louie Ciranny of Anaheim, Cal; and sister Sarah Zopolas of Richland, Wash. He was preceded in death by his daughter, Vicki, and his sister Elisa Damme.
Recitation of the Rosary will be Thursday July 10, 2014 at 10:30 am followed by Mass of Christian Burial at 11:00 am at St. Peter's Catholic Church. Interment will be at St. Peter Catholic Cemetery.

Services for Samuel J. Ciranny