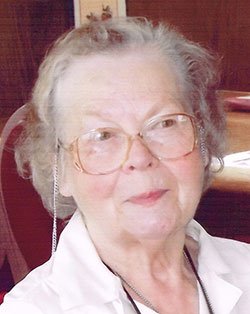 Margaret Christina Pinkerton
Moro, Ore.
October 18, 1924 - July 6, 2014
Margaret Christina Pinkerton, a resident of Moro, Oregon died July 6, 2014 at a care facility in The Dalles, Oregon. She was 89 years of age.
Margaret was born October 18, 1924 in Hood River, Oregon the oldest of two children to Alfred and Clara Henrietta (von Borstel) Kock. She grew up in Cook, Washington and Grass Valley, Oregon, attended Grass Valley Grade School and Grass Valley High School, then transferred to Sandy High School, where she lived with her paternal grandparents. She graduated in 1942 and then attended Oregon State University.
On August 28, 1946 she and Thomas Dean Pinkerton were married in Moro, Oregon. She lived on the Pinkerton Ranch and the Searcy Place, farms outside of Moro, most of her married life. The last 19 years of her life, she resided in her parents' home in Moro.
Margaret was a member of The Dalles Art Association. She took many classes and painted (oils and watercolors) much of her adult life. She donated a painting annually for many years to The Dalles Art Center's auction. She also enjoyed photography. She loved gardening and took Master Gardener classes. She took many classes on Whidbey Island, where she would reside in the winter months for approximately 20 years. She took dress designing classes, then sewed for herself and Janet for years. Margaret helped with the Red Cross Swim program for 25 years and volunteered at the Moro Library for 25 years also. She also volunteered at the Sherman County Historical Museum for a time. Margaret loved swimming, was a member of The Dalles Fitness and Court Club and also swam at Oak Harbor on Whidbey Island. She loved traveling with her husband, specifically loved Washington D.C.'s art galleries. She also traveled to France and Brazil to visit friends and family. Margaret taught her granddaughters to paint and loved spending time with her family, children, grandchildren and her cousins.
She was preceded in death by her husband in 1993, her parents and her brother Bud Kock.
Margaret is survived by her son, Bruce Pinkerton (Sonia), Moro, OR; daughter, Janet Pinkerton, Moro, OR; son, David Pinkerton (Jackie), Moro, OR; Exchange student daughter, Daisy Mattioli Argalji, Rio de Janeiro, Brazil; granddaughters: Julia Pinkerton, Austin, TX; Kari Pinkerton Silcox (Andy), Bend, OR; Megan Pinkerton, Wasco, OR and Andrea Pinkerton, Portland, OR.
Numerous nieces and nephews, two brothers-in-law and two sisters-in-law and cousins also survive.
Services will be held Saturday, July 12, 2014 at 11:00 am at the Moro Community Presbyterian Church. Private family interment will be at the Moro Cemetery.
Memorial contributions may be made to the Sherman County Historical Society, PO Box 173, Moro, OR 97039 or the Sherman County Public/School Library, 65912 High School Loop, Moro, OR 97039.

Services for Margaret Christina Pinkerton