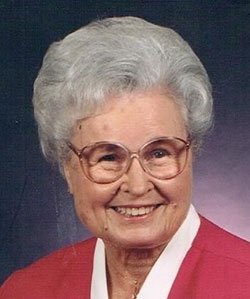 Florence Isabelle Thompson
Wasco, Ore.
May 5, 1922 - July 13, 2014
Florence Isabelle Thompson, passed away on July 13, 2014, in Wasco, Oregon, surrounded by family members and her beloved care-giver, Eileen Wainwright.
Florence was born on May 5, 1922, in Gardner North Dakota, to John and Maude Lawrence. At an early age her family moved to Moro where her father found employment with Flats Trucking. On August 10, 1941, she and Theodore Marcus Thompson were married at the Moro Community Presbyterian Church. Florence and Ted were blessed with two children, Gary Dean and Maryann. During Ted's years in the Army, Florence and children lived with Ted's parents, Inez and Dewey in Moro.
Ted farmed with his brothers Don and Keith, for many years. The family lived at Monkland, on land that became a Century farm in later years. During these years, they greatly enjoyed time spent with family and their many dear friends. They attended potlucks, card parties, church functions and many community functions. Both loved sports, attending and supporting local youth athletic activities. Florence carried her love of sports
throughout her life and was often found "watching the game" on television in her later years.
In 1976, Gary and his wife Linda, moved back to the family farm to join in the family farming Operation. Gary had the privilege of working with his father until July 16, 1982, when Ted passed away. Florence moved to her home in Moro in 1983, where she lived for the rest of her life.
Some of Florence's fondest memories came from their years of being "snowbirds", during which time they traveled to Indio California to spend a few months. They made many lifelong friends that they would spend time with each winter.
Florence and Ted shared a love for their extended family and the Melzer family, which is evident in pictures and stories passed on to the younger generations. Florence's nephew, Bob Lite and his family, were also very dear to her. Bob spent many enjoyable summers on their ranch.
Florence was very proud of her children, her grandchildren Ryan, Jayme and Kristin and her twelve great grandchildren. In her younger years in Moro, she generously hosted parties for grandkids and their friends, whether it was a graduation, birthday or just a day with Grandma, she loved it!
Florence was a lifelong member of the MCPC and a member of the American Legion Auxiliary. She loved quilting and hosted the "quilting ladies" for years. She was proud of the quilts they completed and loved to tell the stories about each one and the families they belonged to.
Memorial services will be held Saturday July 26, 2014 at 11:00 am at the Moro Community Presbyterian Church. Following the Memorial service, a luncheon will be held at the Moro Senior center.
Memorial contributions may be made to the Moro Community Presbyterian Church, or the Sherman County Athletic Foundation.