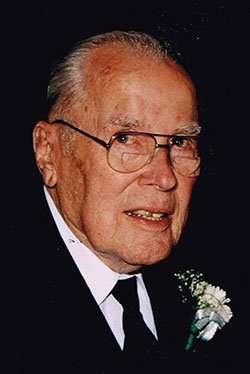 James Edwin Oppliger
Maupin, Ore.
September 9, 1917 - July 16, 2014
James Edwin "Ed" Oppliger, 96, a resident of Maupin, passed away in the early morning of July 16, 2014. Ed was born on Sept. 9, 1917 in Orofino, Idaho to Emil and Margaret Oppliger. Growing up in Orofino, Ed attended Orofino Schools and graduated from high school in 1935. Ed graduated from the University of Idaho with a Masters of Science degree.
While teaching school Ed, met Helen Wallen from Bonners Ferry Idaho, who happened to be teaching school in Orofino. They married Aug. 10, 1941. Ed was drafted into the US Army in 1945. He served as military police officer at Camp Mc Quaide, CA. He received an honorable discharge July 31, 1946.
After the Army, Helen and Ed moved to Weippe, Idaho to work in education. In 1960 the Oppligers with their two children, moved to Maupin, OR. Helen taught at WCUHS and Ed was the superintendent. They enjoyed their 14 years at Maupin.
The Oppligers retired in 1973 and moved to The Dalles, OR. In his retirement Ed enjoyed working with wood and "making sawdust." He and Helen liked gardening, vacationing and dining in new and different restaurants. Most of all Ed loved to spend time with his family.
Ed belonged to many civic organizations including the Lions Club, American Legion, The Elks and The Kiwanis Club.
Ed is survived by his daughter Lois Hull and her husband Gaile Hull; grandchildren Jeff Hull and Jim Hull; great grandchildren Zach Hull, Lindsey Hull, Julie Hull, and Jason Hull. He was preceded in death by his beloved Helen, son, Gary Oppliger, mother and father, two sisters, and twin brother, Earl.
A memorial service will be held July 27, 2014 at 2 p.m. at the Maupin Community Church with Pastor Tim Morelli officiating. Interment was held July 19, 2014 at the IOOF Three Mile Cemetery.
Memorial contributions may be sent to SWC Ambulance, P0. BOX 125. Maupin, OR 97037.