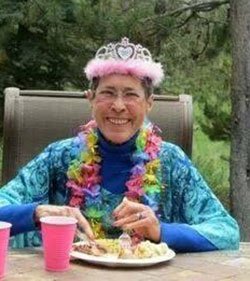 Margo Elizabeth Gayer
Bend, Ore.
June 10, 1944 - July 15, 2014
Margo Elizabeth (Sallee) Gayer of Bend, OR passed away on July 15, 2014 between the angels in her rose garden. Margo, Mom, Meg was born on June 10, 1944 in Portland, OR to the late Eugene and Lucille Gayer. She graduated from The Dalles High School in 1962; she spent several years in New Mexico and Alaska before returning to Oregon in 1978. Most recently, Margo had been residing in Bend with the love of her life, Michael Levey.
Margo had a fulfilling career in the medical field including many years working for Dr. Thomas Hodge at The Dalles Clinic; she was a kind soul who found pleasure in serving others. Aside from giving back, Margo's passions included traveling, working in her garden and quilting.
Margo is survived by her daughters: Ann Ruhl of Sandy; Sara Lang of Juneau, AK; and Jennifer Gaylord of Portland. She is also survived by her sisters: Marylin Redfern of Dufur; Marlene Robins of Portland; and brother Scott Gayer of Kenai, AK. Granddaughters: Kayla R., Emily, Janie, Claire, Kayla D., Krissy and Natalie. Grandsons: Corey and James.
A celebration of life will be held in The Dalles, OR on September 6, 2014. Honorary pallbearers include grandsons Corey White & James Ruhl; Nephews Scott Booth, James Booth, Ned Gayer and Schano Booth. In lieu of flowers, the family suggests people take a moment to walk through a garden, smell the flowers and enjoy a snickers bar.