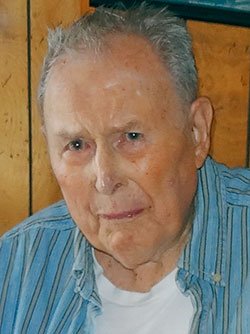 Robert William Hicks
The Dalles, Ore.
June 30, 1924 - July 22, 2014
Robert William Hicks, died July 22, 2014 in The Dalles, Oregon. He was born June 30, 1924 in Dry Ridge, Kentucky.
Bob lived and worked in The Dalles for 56 years. He married Grace Vivian Shannon on June 13, 1946. Grace passed away July 5, 1992. After Grace passed away, Helen Phillips and Bob were best buds until she passed away.
Bob worked in the aluminum business his whole life. He retired at the age of 80 from Northwest Aluminum where he had been production superintendent. He joined the Army during World War II and was stationed in Europe as a medic.
'Bob', 'Baldy', 'Pops', was the first of two children. His brother Earl Hicks also passed away. He was a long time member of the Eagles Lodge and the American Legion. He was actively involved in fundraising for the dialysis clinic at Providence Hood River Hospital.
Bob is survived by his children Wilma – Portland, OR, Jim (Wanda) – The Dalles, OR, Mike (Amy) – Kelso, WA.; Grandchildren Andrew, Aaron, Shannon, Jennifer and great grandson Usiah.
Donations in memory of Bob can be made at the Dialysis Center (Providence Hospital, Hood River, Oregon) or Home at Last in The Dalles.
Services will be held Monday, July 28 at 11:00 a.m. at Spencer, Libby & Powell.