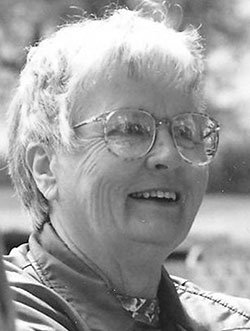 Grace Kenny
Portland, Ore.
February 16, 1923 - February 18, 2014
Grace always read the obituaries. She cut out those of the people she knew and saved them. Now she has her own. Grace Kenny was born in McPherson, Kansas on February 16, 1923. She was the second of five children. Her parents, Frank and Gladys Peterson, along with sisters Doris and Mary Ann and brother Bill, preceded her in death. Grace grew up on small farms, at one time living in a one-room shack. She attended elementary school in a one-room schoolhouse. This upbringing taught her to be frugal with her own lifestyle, but very generous with her family. She lived in town with relatives while attending high school.
After a short career as a telephone operator for Southwest Bell, she met and married Fred Rau in 1944. Their son, Fred, was born in December 1944, and then Grace's husband died in the Battle of the Bulge in January, 1945. On a trip to Oregon to visit her late husband's family, Grace met Jack Krafsic, who, incidentally, was an acquaintance of her first husband. Grace and Jack married in 1946 and had a daughter, Karen, in 1947, and a son, John, in 1952. She parented with just the right mix of caring support and freedom. Grace put in her years as a first class mom and housewife in Portland until 1961 when Jack passed away.
Undaunted by the loss of two husbands, Grace married Lawrence Kenny in 1964, incidentally an acquaintance of her second husband, and relocated to a wheat and cattle ranch on Starvation Point, Sherman County. Lawrence retired from farming in 1983, at which time they moved to Wasco to enjoy the quiet life. Lawrence passed away in 1993, and Grace lived independently in Wasco until she moved to a memory care facility in Portland in 2012. She passed away on February 18, two days after her 91st birthday.
Grace loved her children, grandchildren, dogs, baking, gardening, the beach, the Seattle Mariners, the limited amount of traveling she was able to do, and, in later years, the occasional martini. She was Swedish and, despite that, had a good sense of humor. Throughout the years in Portland and Sherman County, "Gracie" had great times with family and many good friends.
Grace is survived by brother, Gary Peterson (Lavonna); sons Fred Rau (Leslie) and John Krafsic (Linda); daughter Karen Crick; grandchildren Andrew Crick, Chris Crick, Megan Larson, Erin Monroe and Kristen Rau; and great-grandchildren Abby and John Larson and Claire Monroe. Grace had a good life and gave a good life to her husbands and family. Her philosophy of life could be expressed as she accepted the few bad times with the many good times with a quote by one of her favorite newsmen, Walter Cronkite: "And that's the way it is."
At her request, Grace did not want a service. Her children will travel to Kansas where her ashes will be returned to her place of birth. You may visit www.anewtradition.com to leave a message and see more information.