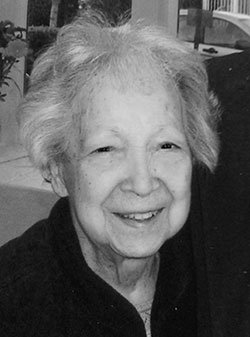 Josephine Lucille Dindia Healy
Portland, Ore.
March 27, 1916 - February 28, 2014
Josephine Healy, a former resident of The Dalles for 47 years, died in Portland on February 28, 2014, at age 97. She was born in Portland on March 27, 1916, to parents Salvatore and Antonia (Battaglia) Dindia, immigrants from Sicily. She grew up in the house she was born in, the youngest of eight children, five of whom survived to adulthood, and was surrounded by a large and warm extended family.
Jo, as she liked to be called, was raised two blocks from St. Philip Neri Catholic Church in Southeast Portland, which she and her family attended and where she went to grade school. While in high school she began working for her father at Pioneer Fruit, a produce company he started and ran for many years. In 1943 she joined the Navy, serving in the Waves during World War II in Washington, D.C. She was always proud of her military service, and worked in the Pentagon and Navy Department building. After the war she worked for several years as a bookkeeper, and then in 1951 married Joseph (Joe) Healy. They made their home in The Dalles, Oregon, where Joe worked as an engineer for the Union Pacific Railroad. She loved living in The Dalles and raising her family there, and even after she returned to Portland in 1998 she would occasionally visit The Dalles.
Josephine's life was framed through the lens of the Dindia and Healy families, and her love of family and friends was often demonstrated through full plates at a welcoming table. She also loved music and for many years played the organ and sang in the choir for Mass at St. Peter Catholic Church in The Dalles.
She is survived by sons Jim (Mary), Kevin (Debbie), and Tom; 10 grandchildren; two great-grandchildren, and many relatives. She was preceded in death by her husband, Joseph, in 1984, and daughter, Kathy Marshall (Chris), in 2009.
A Funeral Mass will be held at St. Philip Neri Catholic Church in Portland at 11:00 am on Saturday, March 8, preceded by a rosary at 10:30 a.m. A luncheon reception will follow at the parish hall. Interment will be at St. Peter Catholic Cemetery in The Dalles.

Services for Josephine Lucille Dindia Healy