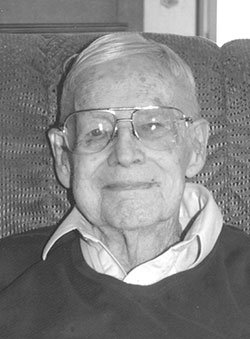 Frank J. Faught
The Dalles, Ore.
September 16, 1914 - September 27, 2014
Born September 16, 1914, Frank J. Faught, passed away on September 27, 2014 at his home in The Dalles.
Frank was born in Walla Walla, WA, and at age two was adopted by Elam and Mary Etta (McFarland) Faught of Prineville, OR. At age 6 his family moved to Dufur, OR. He graduated from Dufur High School in 1932, and received his Masters Degree in Education from Eastern Oregon College.
Following college graduation he began his teaching career in Tygh Valley. The next year he taught at Wamic and while there met Nedra Driver. They were married in 1940 at The Hotel Dalles. As newlyweds they moved to Richland, OR where he continued his teaching career.
In 1941 Frank and his wife became supervisors at the Children's Farm Home near Corvallis for children who were wards of the state. During World II years, a special request was made to defer his military service so he could remain in Corvallis educating and caring for the children. The facility was completely self-sufficient by raising animals and growing produce. Many life-long friendships were created with the children and staff.
In 1944 he was teaching in Union, OR, and in 1947 their first daughter, Teresa was born. In 1948 the family of three moved to The Dalles where Frank was hired as principal of Joseph G. Wilson grade school. The following year their second daughter Vicki was born. He remained principal until 1960 when he became Elementary Supervisor for School District 12.
Frank was an active member of the education associations on local, state, and national levels, The Dalles Rotary Club, and long-time member and master of Barlow Gate Grange at Wamic.
Summers away from teaching were spent helping at the family ranch, working at The Dalles Fire Department, and driving truck during cherry harvest over the years for Fred Hill, Glen Cooper and Dick Renken. Frank especially enjoyed watching sporting events, gardening, and spending time with his grandsons. He was known as kind and caring to all his teaching staffs, and the many children he educated.
On September 16, 2014 he celebrated his 100th Birthday at his home with a few friends and relatives.
He is survived by his wife of 74 years, Nedra (Driver) Faught, daughters, Teresa Barber (Smitty Cox) of Jefferson, and Vicki (Bill) Matthew of The Dalles; four grandsons, Greg Barber, Turner, Tom (Hilary) Barber, Stayton, Aaron (Kristin) Newland, Salem, Nick Newland, Portland; six great-grandchildren, special family friend Ed McBride, Portland, OR, and extended family and friends.
At his request there will be no service. Private burial will take place at a later date at Lone Pine Cemetery, Wamic.
Remembrances may be made to Barlow Gate Grange, Wamic or Home At Last, The Dalles.