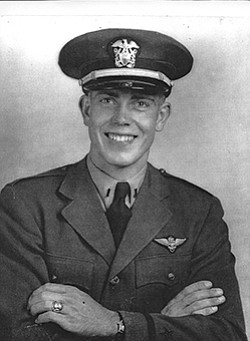 Donald Theodore von Borstel
The Dalles, Oregon
May 26, 1921 - December 6, 2015
Donald Theodore von Borstel was born May 26, 1921 west of Kent, Ore. He was the oldest of 6 children born to Ted and Millie von Borstel. He died in The Dalles, Ore., on December 6, 2015 at his apartment in The Springs at Mill Creek surrounded by his loving family.

He went to grade school and high school in Kent, Ore., and studied automotive mechanics at OIT for 6 months in Portland, Ore. He joined the Navy December 15, 1942 and flew Kingfisher aircraft off the tail end of the battleship Alabama while achieving the rank of Lieutenant JG. November 8, 1945 he was honorably discharged from the Navy. He married Jacqueline Henrietta Jenkins from Baker, Ore., and moved back to Sherman County to farm the majority of his adult life. He lived with his wife Jacque for over 50 years on the farm 6 1/2 miles southeast of Grass Valley, Ore. Don and Jacque had 5 children. Joy Farmer of Milwaukie, Ore., Cathy Behm married to Larry of Milwaukie, Ore., Carsten von Borstel married to Ree Ella of Grass Valley, Ore., Wayne von Borstel married to Marta living in The Dalles, Ore., and Ted von Borstel married to Jeanne living in Grass Valley, Ore., on the original farm Don raised his family. Don has 11 grandchildren, 18 great-grandchildren and 1 great great-grandchild surviving him. After the death of Jacque, Donald married Marta Maria Crisostomo. During his adult life Donald attended St. Paul's Episcopal Church, Grass Valley 1st Baptist and Moro Presbyterian Churches. He was on the County unified school board, the Sherman high school board and the Grass Valley grade school board. For many years he was the commander of the Legion firing squad that performed ceremonies for many veterans in Sherman County. He was on the building committee that built the current Episcopal Church in The Dalles, Ore.

He loved his family including his brothers and sisters Marie Hattrup of Sonoma, Calif., and Rita Swyers of Hood River, Ore. His brothers Carl and George von Borstel and sister Cassie DeCourcey predeceased him. Pallbearers will be his grandsons Aaron Farmer, John Farmer, Seth von Borstel, Noah von Borstel, Donald von Borstel, Matthew von Borstel and Mark von Borstel.

Viewing will be from 10:30 a.m. to 11 a.m., Saturday December 19, 2015 at the Grass Valley Baptist Church with a service immediately following. Burial will take place at the Grass Valley Cemetery at 12:30 p.m. and everyone is invited to partake in a meal served at the Grass Valley grade school at 1 p.m.

There will be a memorial fund set up at the Sherman County historical Society. The family would appreciate donations made in Donald's memory.