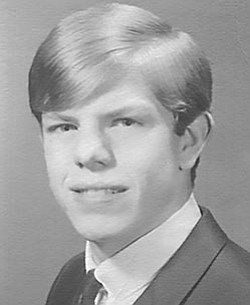 Darryl Lloyd Birlew
Yamhill, Ore.
September 5, 1950 - January 6, 2015
On January 6, 2015, Darryl Lloyd Birlew, a treasured and much loved husband of 42 years, son, brother, uncle, and friend grasped the hand of Jesus and is resting peacefully and pain-free in Heaven.
While Darryl was an inspiration to so many throughout his entire life, he was especially an inspiration for the past eight years as he silently fought cancer with the most dignity and positive attitude his family and friends had ever known. Darryl's strong faith and love of Jesus and the loving care from his family sustained him through this period of his life. Darryl is strong in the hearts of each of those who loved and treasured him so much.
Darryl was born on September 5, 1950, in Salem, Ore. He and his family grew up in The Dalles, Ore., at a time when the city was vibrant and offered much to a young family of eight (including Grandpa Gearhart). Darryl loved to talk about the adventures he and his boy-to-man hood friends had while growing up — riding dirt bikes to the top of Eagle Caves, playing the drums in his father's band, walking down to the train tracks and listening to the stories from hobo's passing through town, cruising the gut in his GTO and other classic cars, and hanging out at The Handout were some of his fond memories.
Darryl started working in a variety of jobs later in grade school and through his high school years, where he developed his strong work ethic and formulated the many goals that drove his future plans. He graduated from Wahtonka High School, Class of 1968. Darryl served in the Army, stationed in Germany, for two years. He then pursued his degree in Business Administration/Finance, graduating from Southern Oregon State College in Ashland.
Darryl quickly advanced in the corporate world, working in CFO and CEO roles for several global heavy construction companies. He was one of those rare individuals who excelled in the details of Finance and Accounting, and also had strong leadership skills. In his early forties, Darryl decided to retire and continue pursuing his many diverse interests. They included real estate investing, collecting classic cars, training to become a competitive tennis player, intense study of the guitar and keyboard, and building an enviable record collection.
Darryl and his wife Marlene lived in a variety of unique and interesting cities over his lifetime – Blue Lake, Ore.; Ashland, Ore.; Eagle Creek, Ore.; Lake Oswego, Ore.; Huntington Beach, Calif.; and spent the last 14 years in the heart of wine country in Yamhill, Ore., on their 60-acre estate. They enjoyed developing their Yamhill property, vacationing at the Oregon beaches and in their vacation home in The Dalles, hanging out in the gorge, gardening, rescuing and loving stray cats, raising their pet chickens (all named), cruising through Wine Country, and long walks on their farm. As Darryl once said to Marlene, "We are lucky we found each other."
Darryl is survived by his wife Marlene Birlew; sisters Cheryl, Melodee, Karel Anne and Milli; father Earl, and many beloved nieces and nephews. His best friend Geri Malott and his wife Gwen have been an integral part of the family's lives over the years as well.
Darryl's family held a private service for him on Jan. 14, 2015, where he is resting, at Yamhill-Carlton Pioneer Memorial Cemetery in Yamhill, Ore. A military Memorial Service will be held on Saturday, Sept, 5, 2015, at the Yamhill cemetery, located nearly halfway between Yamhill and Carlton on Hwy 47, off of Fryer Road. In lieu of flowers, please consider making contributions to the American Cancer Society.