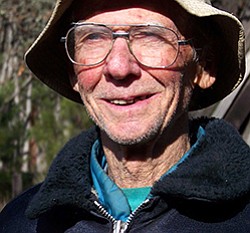 Irvin "Mitch" Homer Mitchell
The Dalles, Oregon
May 14, 1929 - September 5, 2015
Irvin Homer Mitchell ("Mitch") was born on May 14, 1929 in The Dalles, Oregon. His family moved to Klickitat, Wash., where Mitch graduated from Klickitat High School in 1947. He then worked for J. Neils Lumber Company in Klickitat until 1950 when he enlisted in the U.S. Navy. He served 4 years as a Machinist's Mate on various vessels, including the USS Iowa.

After being honorably discharged from the U.S. Navy, Mitch returned to Klickitat in 1954 and bought 160 acres of land, including all of Skookum Flat. He made his living largely by gradually selling off small pieces of land for homes, reserving for himself a 2-1/2 acre piece where he lived before moving to Cherry Heights Living in May 2015. In the interval, he enjoyed numerous adventures while living in Belize for 6 years, and another 3 years near Puerto Vallarta, Mexico.

Mitch was one of the first windsurfers at Doug's beach and spent countless hours as a volunteer with Washington State Parks helping to maintain the area. He was an avid supporter of the Klickitat Trail, which ran through his property, and planted trees along the trail on his property and in numerous locations throughout the town of Klickitat. He donated his property to the Klickitat Trail Conservancy so that eventually it can be enjoyed by the public.

Survivors include brother Franklin in Hawaii, niece Catherine in Australia, and two cousins in Portland, Oregon.

A memorial service to celebrate his life will be announced soon.