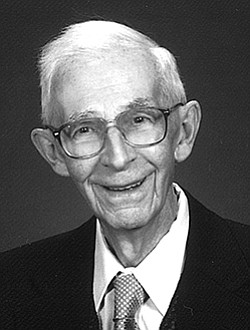 Lars Arne Ryssdal
The Dalles, Oregon
May 16, 1922 - April 3, 2016
Lars Arne Ryssdal, born May 16, 1922, in Trondheim, Norway passed away in his home April 3, 2016. He was the 5th child and only son of Ola and Laura Larsen Ryssdal. He is survived by his younger sister, Helga, who lives in Brighton, England.

He was a brilliant chemical engineer, charged with producing quality, cost-effective aluminum for Det Norske Nitrid-Aktiesselskap in Tyssedal, Hardanger, Norway; for Anaconda Aluminum in Columbia Falls, Mont., and for Harvey Aluminum/Martin Marietta in The Dalles. He was a talented artist and a self–taught piano player. He was lousy at carpentry, plumbing and bridge.

He was devoted to his wife, Aasta, for 63 years. He loved his children, Ellen, Anne and Lars Erik, unconditionally. He was the best grandpa ever to Laura and Dana Lars. He welcomed with open arms his son-in-law Bruce, his daughter-in-law Carol, his step-grandsons Justin and Eric and his grandson-in-law Eric.

He introduced us to magnificent mountain peaks, glacial lakes, skiing, Yellowstone, Disneyland, Seaside, huckleberry picking, classical music, jazz, Glenn Miller, Jim Reeves, humor, patience and good citizenship.

He guided us, he supported us, he was proud of us, he enjoyed us and he loved us.

He will be missed.

We would like to thank the staff and residents of The Springs for being his friends. We would especially like to acknowledge Doris Smith, Willa Varner and Lou and Dorothy Johnson. You were very dear to him.

There will be a Celebration of Life service at Zion Lutheran Church, 101 W 10th St, The Dalles at 10 a.m. on April 29, 2016.