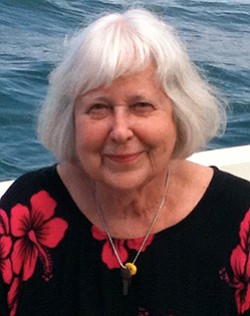 Dawn Corey Kelly
unknown - March 19, 2016
Dawn Corey Kelly died on March 19 after a long life of fun and adventure. She was born in 1921 in Seaside to Glen and Opal Corey, the middle of three daughters. After many years in The Dalles, she lived in Portland for the past few years, with her little sister, Barbara, who survives her with their dog, Lucy.

Dawn married Joe in 1942, defying both their parents' wishes. After the war, they returned to their home in The Dalles, where they lived happily almost forever after together, with their daughter, Fran, and their four sons, John, Dan, Terry and Matt. She attended all of their recitals, football games, baseball games and school plays, always noting how marvelous each was. She handed out a dime for every A on a report card, except citizenship grades, in which she placed small stock. She sang many lullabies.

Dawn and Joe danced, travelled and golfed together for more than fifty years. In a different day, they pushed the furniture to the walls, invited friends over, cranked up the Motorola, and danced the night away. After Joe had a stroke in 1995, she nursed him at home for two years. After his death, she moved to Portland, where she had an excellent life, but she never danced again except with her sons and grandsons.

Dawn was a middling bridge player, but thought she was better. She spoke Spanish and French, mostly self-taught in later life, and could agree with herself in three languages. She was a skilled artist whose paintings grace the homes of her family. She was a good friend to many.

Dawn passed away quickly after a brief illness, in the company of her children, grandchildren, sister, and nieces, those who loved her best, and hope she is in heaven, where she and Joe have pushed the furniture to the walls.

A funeral mass is planned at Saint Peter's Church at 11 a.m. on Thursday March 31, 2016.