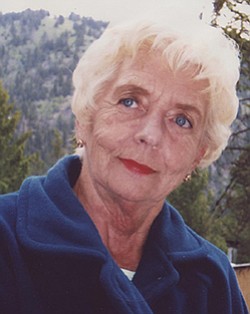 Dolores "Blue Eyes" Pavek
Springfield, Oregon
November 25, 1934 - October 20, 2016
Dolores (Mauser) Pavek, aka "Blue Eyes" passed away on October 20, 2016. She was born in Blackfoot, Idaho in 1934. After moving through many farming communities, she and her parents made home in Goldendale, Wash. After graduating from Goldendale High School, she married Vance Mauser. They resided in The Dalles, Ore., and had 6 children together. In the late 70's Dolores met Jerome Pavek (died May 31, 1996) whom she married and traveled the United States with for many years. They settled in Sykeston, Mo., for a period of time and then returned to The Dalles area in the 90's to be closer to her children and parents Rolland (Bill) (died 2003) and Genevieve (Genny) Hall (died 2007).

In 2005, Dolores went to a school reunion in Westin, Ore., where she met up with an old school sweetheart, Lynn Christopherson. Lynn and Dolores spent the remainder of their lives devoted to each other.

Dolores moved in 2007 to share a home in Borrego Springs, Calif., in the winter and heading north to Phillipsburg, Mont., for the summer. She loved their home in Borrego Springs and enjoyed growing lovely large roses, many traveling adventures, and met many friends and family which they enjoyed visiting with and fixing dinners for.

In 2013 Dolores' health took a turn and she moved to Springfield, Ore., to be near her daughter, Linda. The remainder of her years were filled with trips to the McKenzie River, wineries, covered bridges, local farms, restaurants, hours of driving through the Lane county area, and more hours filled with walking hand in hand, smiling, laughing, humming, always with a twinkle in those deep blue eyes.
Dolores had many accomplishments in life. She was a member of The Dalles Country Club, The Eagles, Duplicate Bridge Club and the American Legion. She loved life and filled it with family, golf, bridge, duplicate, bowling, sewing, fishing, cooking, and a wonderful love of the garden. Beautification awards were received with pride, and her roses made everyone stop and take a second look.

Her family gatherings have stopped long ago, but the memories of the times will stick with friends and family alike. Christmas was one of her favorites, and even in Borrego Springs, Calif., she would put up a live tree. Her divinity will never be matched.

Dolores left behind 6 children, Dan & Ethel Mauser, Vandee Mauser, Mark & Carol Mauser, Steven Mauser, Scott Mauser, of The Dalles Ore., and Linda & Bob Fricke from Springfield, Ore. She also had 11 grandchildren and 12 great-grandchildren, a brother Jerry Jensen of Idaho Falls, Idaho. She is preceded in death by a sister Donna Stibal.

Lynn Christopherson passed away in February of 2016. She wanted to be set free in Phillipsburg, Mont., to be close to Lynn.

The love, laughter, and dancing will continue.....under the Montana skies.

Services are in care of Major Family Funeral Home in Springfield, Ore. Visit majorfamilyfuneralhome.com to sign the online guest book.