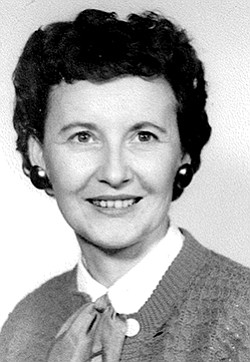 Nedra Maxine (Driver) Faught
October 10, 1920 - November 21, 2016
Born on October 10, 1920, to Tom and Gertrude (Woodcock) Driver, in the family farmhouse near Wamic, Oregon, Nedra traveled to Wamic grade school on horseback as a young girl. Proud of her pioneer heritage of families that arrived in the 1850's on the Oregon Trail, she was equally proud to have been a 4th generation Oregonian and in later years would show many old photos and recount stories of southern Wasco County to her friends and family.

At age 17, she was sponsored by Barlow Gate Grange of Wamic and selected as the first Wasco County Fair Queen (see The Dalles Chronicle, August 9, 2014). Nedra remained an active member of that Grange for over 80 years.

She graduated from Maupin High School in 1938 and in 1939 she met her love, Frank Faught of Dufur.
Frank and Nedra were married at The Hotel Dalles on August 25, 1940. When they met, Frank was the only teacher at Tygh Valley School. The young couple lived in Richland, Corvallis and Union, Oregon, as Frank continued his teaching career. During the war years, Nedra worked as a house parent at the Children's Farm Home in Corvallis while Frank taught classes there.

In 1948, they settled in The Dalles where he was hired as principal of Joseph G. Wilson Elementary School. They resided at their home on Lewis Street for 66 years, raising their two daughters, Teresa and Vicki. An accomplished seamstress, Nedra could be found late many a night finishing ballet costumes, Christmas formal or prom dresses for her daughters.

In 1954, Nedra began working as secretary at The Dalles Junior High. In 1968, she continued her secretarial career at The Dalles High School. She looked upon all of the students as "her kids" and always enjoyed seeing them later on as adults. She retired in1984 after 30 years of service with School District 12.

During the Rajneesh occupation of Wasco County in the 1980's, Nedra used her clerical skills and worked many hours with other volunteers at the courthouse preventing fraudulent voter registration.
Following retirement, she and her husband enjoyed travelling with friends and family on numerous RV camping trips throughout Oregon, Washington, Alaska and Canada.

Nedra and Frank were married for 74 years. Frank passed away in 2014 and Nedra moved to Mary Alva's Senior Class care home where she lived until her passing.

Nedra is survived by 2 daughters, Teresa Barber (Smitty) of Jefferson, Oregon and Vicki Matthew (Bill) of The Dalles, four grandsons, Greg Barber of Turner, Oregon, Tom Barber (Hilary) of Stayton, Oregon, Aaron Newland (Kristin) of Salem, Oregon and Nick Newland of Portland, Oregon and six great grandchildren, Samantha, Abagail and Autumn Barber, Crystal Wilson, Alexander Newland and Nathaniel Newland as well as extended family and dear friends.

At her request, there will be no funeral. Plans will be made in the spring of 2017 for a graveside gathering at Wamic Cemetery.

Remembrances may be made to; Barlow Gate Grange, Lenore Walters Scholarship PO Box 145, Tygh Valley, OR 97063 or Wamic Community Historical Society c/o Susie Alsup 80309 Ross Rd. Tygh Valley, OR 97063