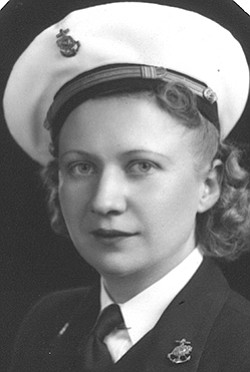 Bessie "Tenny" Henricks
Albany, Oregon
April 15, 1915 - June 5, 2017
Bessie Helen Tennyson was born on April 15, 1915, in Blair, Wisc., to Laura (Anderson) and John Tennyson. She was the third child in what was to become a family of 10 children. She passed away in Albany, Ore., as the last family member on June 5, 2017, at age 102 years.
As with many families, the Tennysons migrated west during the Great Depression. Laura and John Tennyson rode with the babies in the touring car while Bessie and her older siblings walked up hills too steep for the car to carry everyone. Eventually the family settled in Mount Vernon, Wash., on a small farm just outside of town.
Bessie was in the eighth grade by then and attended Mount Vernon schools, where she graduated in 1934. She mostly boarded in other homes, working as a housekeeper and nanny, while being the first in the family to graduate high school.
Bessie moved to The Dalles, Ore., after high school to attend The Dalles Hospital School of Nursing. She graduated as a registered nurse in 1937. At that time nurses' training took three years and included working at Doernbecker Children's Hospital in Portland. Bessie's bachelor uncle, Theodore Tennyson, financed her nursing school expenses. Bessie's own children later knew him affectionately as "Unk."
Bessie worked as a nurse at The Dalles Hospital until the start of World War II. She then enlisted in The United States Navy Nurse Corps as an ensign. She was stationed at the Mare Island Naval Hospital in the San Francisco area. She served there for three years.
Mare Island Hospital was the receiving hospital for men wounded in the Pacific arena. She told of receiving the few shark survivors there from the infamous sinking of the Indianapolis. She also remembered flying on "joy rides," i.e., test flights on military planes repaired at the nearby air base. This quickly came to an end when the head nurse found out about it and was afraid that she would lose her full nursing staff!
It was while she was in the Navy that the nickname "Tenny" was applied and stayed with her the rest of her life. Tenny was very proud of her Navy career.
Tenny had met Ed Henricks in The Dalles after nursing school. Ed had also enlisted in the U. S. Navy at the start of WWII. He was assigned to PT Boats as a chief torpedo man in the Pacific.
Ed and Tenny were married while both were on furlough at the Brooklyn Naval Yard in New York in September of 1944. They honeymooned on the Boardwalk of Atlantic City. Afterwards, Tenny resigned her commission (married nurses were not allowed in the services) and returned home. Ed returned to the South Pacific until October of 1945.
Upon return to The Dalles, Tenny worked as a nurse at The Dalles Clinic. The clinic had 10 doctors and the nursing staff rotated amongst all of the doctors. It was at the clinic where Tenny met most of the people she came to know in Wasco County. Tenny worked at the Columbia Park Mental Hospital in The Dalles in the early 1970s.
Tenny worked full time as a Registered Nurse from 1937 to 1977. She also maintained two other jobs, one as mother and one as bookkeeper on the Henricks cherry orchard. She and Ed lived on the cherry orchard overlooking the Columbia River until Ed's death in 1990.
Tenny moved to Lebanon in 1991 to be closer to family. She loved living independently and driving her own car. She wore out two Buicks in Lebanon before she quit driving at age 90. In 2002, Tenny moved to the Mennonite Village in Albany, Ore., where she was cared for with exceptional skill and kindness.
Tenny was a very caring, determined, capable and intelligent woman of action. She was a fighter for the underdog. She was a stickler for detail and making sure that everything was done right.
Tenny is survived by her two children, JoAn Henricks and Ed Henricks; five grandchildren, Nathan Barnes, Christopher Henricks, John Henricks, Edward Henricks and Victoria Henricks; two great-grandchildren, Henry and Georgie Henricks; and numerous nieces and nephews.
Mass of Christian burial will be held on Thursday, June 22, at 11 a.m. at St. Peter's Catholic Church in The Dalles, Oregon. All are invited to a celebration of life afterward at St. Peter's social hall.