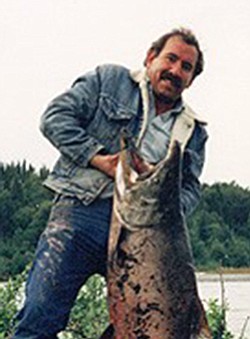 Gary Frederick Ricketts
Naperville, Illinois
October 2, 1949 - May 16, 2017
Gary, 67, of Naperville, Ill., passed away after a prolonged battle with cancer. Gary was born in Goldendale, Wash., to parents Theodore C. Ricketts, Sr., and Mabel (Holmberg) Ricketts. He was one of seven children, including brothers Theodore "Sonny," David, and sisters Shirley, Sandra, Linda, and Cynthia. As a young child, Gary grew up in Wishram, Wash. The family eventually moved to The Dalles, Ore., where he made many lifelong friends. Gary attended Wahtonka High School and excelled in many sports, lettering in baseball as a freshman, and making All-League in basketball and baseball his junior and senior years.
Gary enlisted in the United States Marines, assigned to the 1st Recon Battalion of the 1st Marine Division in Danang, Vietnam. During the war he suffered severe injuries when his helicopter came under enemy fire. After spending many months in military hospitals recuperating, Gary was flown back to the U.S., having received an honorable discharge as well as a Purple Heart. After the military, Gary moved to Alaska. He was warmly greeted at the airport by his "Grandma Tassie," a little Eskimo woman wearing a traditional parka and mukluks. While in Alaska, he enjoyed meeting relatives, which he had remained close to and considered many to be brothers and sisters.
Gary loved Alaska and often asked his cousins to mail him salmon strips and canned fish. He enjoyed a wide range of occupations, including logging, commercial fishing, and being a Smoke Jumper. He also worked as a city planner for the Native community of McGrath, Alaska, and Tribal/City Administrator for the Native communities of Stebbins and Nikolai, Alaska; eventually working with Indian Health Services in Anchorage, Alaska. He spent time in Washington D.C. serving as a management assistant for the House Committee of Interior and Insular Affairs before starting his own management consulting company.
Education was important to Gary, who earned his bachelors of science in Biology from Eastern Washington University and a masters of Public Health from the University of Hawaii. In 2003, Gary married his current wife, April, at Rawhide Western Theme Park in Scottsdale, Ariz. While living in Phoenix, Gary enjoyed playing golf, riding his bicycle, relaxing in the pool, and taking family vacations to the Grand Canyon and Las Vegas. The couple lived happily in Arizona for many years, raising two sons before moving to Illinois.
Gary is survived by his loving wife April and their sons, Joshua and Martrael; sisters Shirley Hovda of The Dalles, Ore., and Linda Jones of Durango, Colo.; uncles Fred Holmberg of Kalskag, Alaska and Clarence "Sonny" Holmberg of McGrath, Alaska; and multiple cousins, nieces, and nephews across the country. He is also survived by sons Darren and Dana from previous marriages. Gary has left us to be with the Lord.
Gary was cremated by Veterans Funeral Service in Chicago, Ill., with final interment being planned. A memorial service will be held at The Dalles First United Methodist Church, located at 305 E 11th St. in The Dalles, Ore., on Saturday, June 3rd at 1 PM. Donations on behalf of Gary may be given to the Salvation Army.