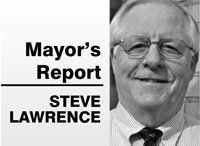 Stories this photo appears in:
Due to the absence of three council members, only one meeting was held in October. A system is being developed now to track councilors' availability in the future to prevent this from happening again. The mayor does have the option of calling special meetings if necessary by giving 24-hour notice.
On Friday, Aug. 2, I attended a bike ride called "Voyage of the Visionaries," sponsored by ODOT, Travel Oregon and others.
When I began writing the monthly Mayor's report, my goal was to simply report on the actions of city government. I was going to stay away from personal opinions and I certainly was not going to lecture. There comes a time, however, when it's best to speak your peace.

March began with my first trip to Washington D.C. as part of The Dalles Outreach Team. The purpose of visiting Washington twice a year has been to connect with important federal agencies, research funding sources for local projects and strengthen relationships with senators and representatives and staffs from both sides of the river.