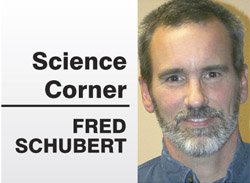 Stories this photo appears in:
The oceans cover over two-thirds of our planet's surface, making it hard to imagine we humans could do them much damage.

When our hot summer temperatures arrive, I think back to time spent in the Midwest. Sun or shade, breeze or not, high temperatures just felt more uncomfortable there than here in the gorge.

Science sometimes advances by giant leaps, but more often moves in small steps by gradually gathering new evidence. The calculated age of the Earth is a good example, having shifted from a few thousand to 4.5 billion years old over the last two centuries.

It's been nearly six months since my last rant about climate change, arguably one of the biggest science stories of our time. In early May we reached the milestone level of 400 parts per million carbon dioxide (CO2) in the atmosphere, a good excuse to revisit the latest signs of global warming.

All life on Earth shares a common ancestor. You just have to trace the evolutionary tree over 3 billion years into the past to find it. And while family resemblances get harder to see the further back you go, modern science unmistakably ties us all together.

The discovery of hydrothermal deep sea vents in the late 1970s opened up multiple new areas of research and learning for geologists, chemists and biologists.