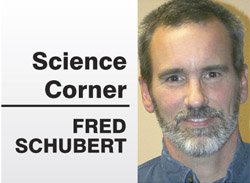 Stories this photo appears in:

This September the United Nations released an encouraging update on the status of the ozone layer and the ozone hole over Antarctica. Evidence of progress in reversing ozone depletion offers good environmental news and some interesting parallels with climate change.

Science has advanced in leaps and bounds over the last several centuries. Our knowledge about the cosmos, our planet and life on Earth increases almost daily.

We've experienced a couple of prolonged thunderstorms this summer, and will probably see more before we're through. In addition to the risks of wildfire and injury, lightning offers the chance to see natural science on display.

Oregon on average offers a mild climate, but we have plenty of regional variation. Traveling from the coast to Eastern Oregon can present a range of temperatures and weather conditions that can be striking at certain times.

With spring officially here, flowers are popping up everywhere. Scientifically classified as angiosperms, with over 300,000 species around the world, the flowering plants are the largest group in the plant kingdom.

Our recent winter weather has kept me thinking about ice, snow and water lately. We spend every day surrounded by water in many different forms, rarely considering its critical role in our lives both past and present.

Comet ISON, first spotted by Russian astronomers in September 2012, broke up while passing too near the sun this Thanksgiving. After billions of years of traveling through space, it now consists of little more than scattered dust and rocky debris.

One way of viewing modern biology is to make a list of unifying ideas that tie such a huge field of science together. The shortest list would consist of evolution alone, for as a biologist named Theodosius Dobzhansky once said, "Nothing in biology makes sense except in the light of evolution."
The oceans cover over two-thirds of our planet's surface, making it hard to imagine we humans could do them much damage.

When our hot summer temperatures arrive, I think back to time spent in the Midwest. Sun or shade, breeze or not, high temperatures just felt more uncomfortable there than here in the gorge.

Science sometimes advances by giant leaps, but more often moves in small steps by gradually gathering new evidence. The calculated age of the Earth is a good example, having shifted from a few thousand to 4.5 billion years old over the last two centuries.

It's been nearly six months since my last rant about climate change, arguably one of the biggest science stories of our time. In early May we reached the milestone level of 400 parts per million carbon dioxide (CO2) in the atmosphere, a good excuse to revisit the latest signs of global warming.

All life on Earth shares a common ancestor. You just have to trace the evolutionary tree over 3 billion years into the past to find it. And while family resemblances get harder to see the further back you go, modern science unmistakably ties us all together.

The discovery of hydrothermal deep sea vents in the late 1970s opened up multiple new areas of research and learning for geologists, chemists and biologists.