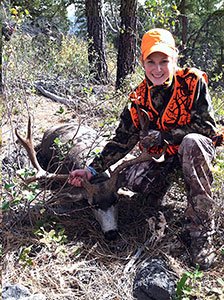 Pictured: Haley Rager with a buck taken in the Interstate Unit in 2011 during a controlled rifle hunt. Photo courtesy of ODFW.
Stories this photo appears in:
ALEM, Ore.—It's that time of year when many hunters are poring over big game statistics and summary reports, trying to figure out what controlled hunts to apply for. (The deadline to apply is May 15.) After software engineer Ron Wold didn't draw a tag he was sure he would, he created the Oregon Tag Draw Percentages website to help hunters figure out their chances. Hundreds view his website or contact him each year to get a sense of their chances. The book Oregon Tag Guide also helps hunters understand their odds.