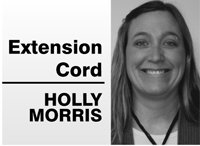 Stories this photo appears in:

Earth Day is Tuesday, April 22 and brings with it a better awareness of how we treat our planet.

The United States is one of the largest consumers and wasters in the world. Each consumer contributes about 2,500 pounds of waste per year and of that waste, over half can be reduced, recycled or reused.

It can be exhausting for parents during the winter months keeping our kids warm, safe and entertained while inside. It can be difficult to come up with fun activities, but it is important that we keep kids busy so that the winter blues don't kick in.
SCIENCE, TECHNOLOGY, engineering and math careers are experiencing a shortage of women
Can you believe it is time for our kids to start the new school year? And, that means it's time for the 4-H after-school and in-class enrichment programs to begin.

How do we explore the depths of the ocean "where no man has gone before?" What type of technology can help us clean up polluted waterways? How can we safely collect data from the deep, dark sea? The answer is remotely operated vehicles or ROV's.
If you are like me, I worry about how to keep my kids entertained and learning throughout the summer. So how do we keep our kids busy during the summer months when parents still have to work? Have you given any thought to what your kids will be up to this summer?
When we talk about sports and tournaments many of us think of football, cross country or basketball. There are many youth that are involved in a sport, but the question arises, "Is Robotics a Sport, too?"