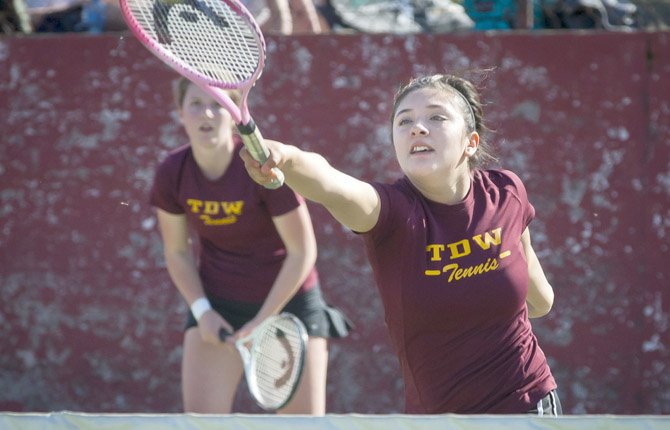 The Dalles Wahtonka's Abi Herriges, right, slams a shot over the net at her Hood River apponents as third doubles partner Cinthia Vasquezlooks on during Wednesday's matchup in The Dalles April 24.
Stories this photo appears in:

Girl's tennis loses 8-0 to Pendleton, but eyes top district rally In looking for a silver lining, The Dalles Wahtonka girl's tennis coach Debby Jones saw her team nearly double its 22-game total from their last effort versus Pendleton up to 37 in an 8-0 loss Wednesday at Pendleton High School.

TDW girl's tennis team shows vast improvement in senior match versus Hood River Although the final tally of a 7-1 loss was a carbon copy of the last time The Dalles Wahtonka played against Hood River Valley, girl's tennis coach Debby Jones noticed better play from her determined squad. Anna Miller won her No. 1 singles match and the Eagle Indians came close in a few others in a 7-1 league loss on senior night Wednesday in The Dalles.