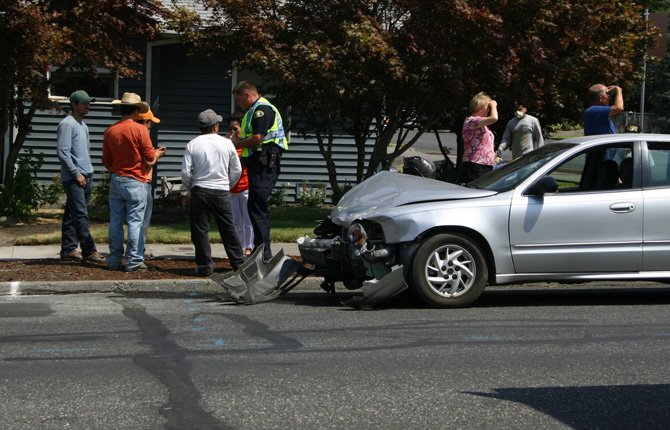 A TWO-VEHICLE CRASH at the intersection of 10th Street and Dry Hollow Road sent one woman to the hospital Aug. 1, shortly after 2 p.m. The collision blocked most of the intersection for less than an hour, though the southbound lane of Dry Hollow remained open throughout with police traffic control. The Dalles Police reported a car driven by Juan Espinoza Andrade, 23, of Lindsay, Calif., ran the 10th Street stop sign, colliding with the Subaru SUV driven by Vera Mae Stevens, 63, The Dalles. Stevens, pictured above in head and back stabilizers with Mid-Columbia Fire and Rescue emergency responders, complained of neck and chest pains and was transported to Mid-Columbia Medical Center. She was out of the hospital this morning. Andrade was cited for failure to obey a traffic device.
Stories this photo appears in:
Police, fire, medical and lottery reports from Aug. 2, 2013.

One person transported in two-car accident Aug. 1