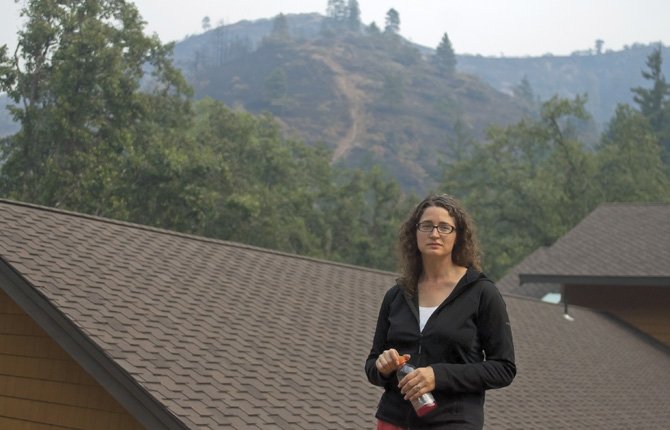 Teal Everts stands in front of her Mill Creek home. The fire line can be seen on the hillside that above.
Stories this photo appears in:

Bruce Schwartz looks out over a burned-out area where the Blackburn Fire, part of the Government Flats Fire Complex, jumped a fireline officials had hoped would keep the fire from threatening The Dalles water treatment plant and area homes, like the nearby home of his daughter Teal Everts. Everts, at left, next to her Mill Creek home and the hillside that burned, watched the fire hit and jump the line.

Blaze containment advances Rain and lighter winds than expected helped keep the Government Flats Fire Complex in check Thursday. After growing at a rate of two to three thousand acres a day this week the Blackburn fire had only increased from 11,040 acres Thursday morning to 11,247 acres Friday morning, bringing the total complex up to 11,542 acres.