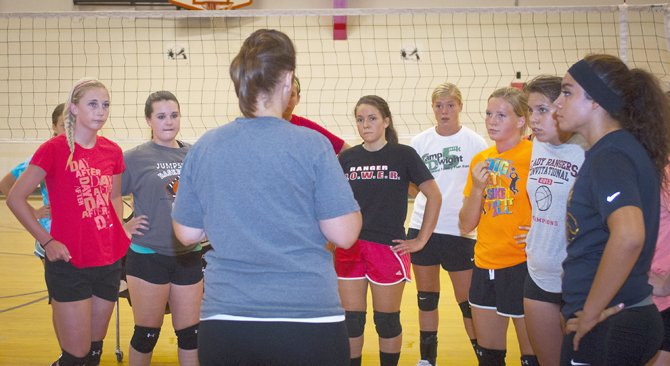 DUFUR volleyball coach Kelly Darden (front) discusses strategy and execution with her team during practice at Dufur High School. As one of the top teams in the state, the Lady Rangers, who won 21 matches and finished ranked No. 2 in the state in 2012, return two former all-state winners in Taylor Darden and Teneille McDonald, along with a few other all-league hitters and top setter Alexa Macias.
Stories this photo appears in:

With some offseason tweaks, volleyball team is working towards bigger dividends
Although they won 21 non-tournament matches and at one point claimed the state's No. 1 ranking, the Dufur Rangers fell short of their lofty expectations – one win from the 1A volleyball state playoff site after a three-game sweep loss to Yoncalla. It was then where head coach Kelly Darden did some reflecting on what the next step to take with her varsity volleyball squad. She wanted to make some tactical changes, with hopes of moving in a different direction.