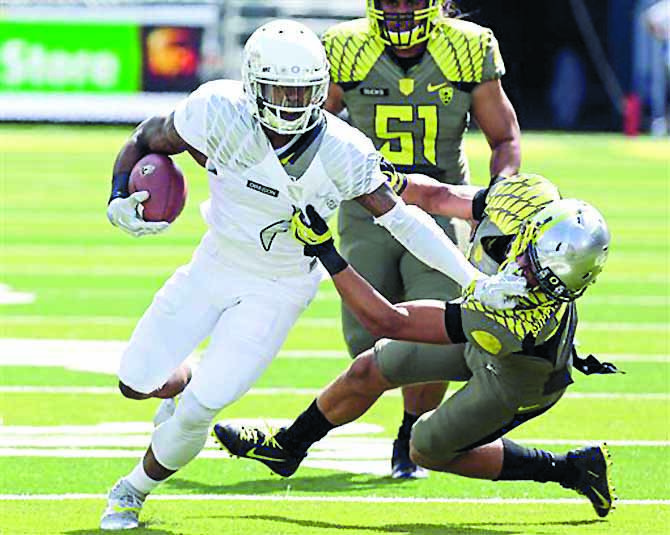 FILE - In this April 27, 2013 file photo, Oregon wide receiver Josh Huff, left, tries to break free from defender Oshay Dunmore during the first half of their spring NCAA college football game in Eugene, Ore. Huff hopes to remake his legacy in his final season at Oregon. He has had a rocky career for the Ducks. He's been dogged by injuries. He's been in an offense that puts more emphasis on the run than the pass. And he still worries that an arrest that resulted in a full acquittal may have nonetheless tarnished his reputation.
Stories this photo appears in:

New coach, coordinator bring energy to high-flying Oregon team
But while Oregon football kicks off its 2013 campaign on Saturday against lowly FCS foe Nicholls State with a new coach, a new ballyhooed football facility and a gaggle of primed athletic talent, they also have a bevy of new questions heading into the upcoming season. While this weekend's opener isn't expected to be even remotely competitive (the Ducks are 59-point favorites), there are other concerns this season that stand between the Quack Attack and their fifth straight appearance in a BCS Bowl.