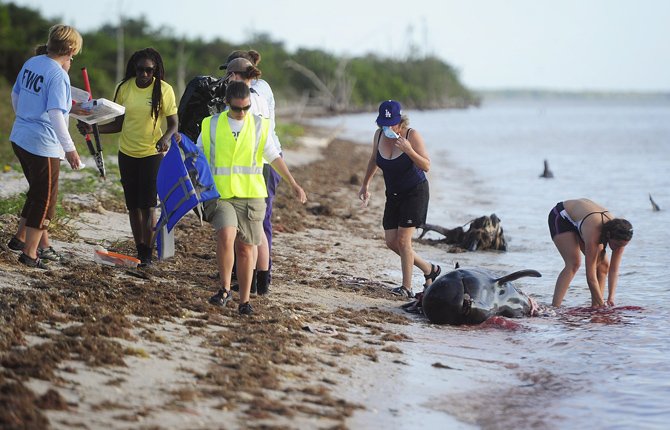 After conducting a necropsy on a dead pilot whale on Wednesday, Dec. 4, at Highland Beach in The Everglades of Florida, volunteers and staff from NOAA, FWC and MMC wash bloodied hands in the Gulf of Mexico. Six dead pilot whales were found in a remote part of the park today, part of a pod of 51 whales facing an uncertain future. At least 10 whales have died since the mass stranding was discovered Tuesday. As of dusk on Wednesday, 41 were still alive and swimming free.
AP Photo/Naples Daily News, Corey Perrine
Stories this photo appears in:

ADEN, Yemen (AP) — A suicide car bomber struck Yemen's Defense Ministry Thursday, killing 18 soldiers and paving the way for a carload of gunmen wearing army uniforms to storm the heavily guarded compound in the capital of Sanaa, officials said.