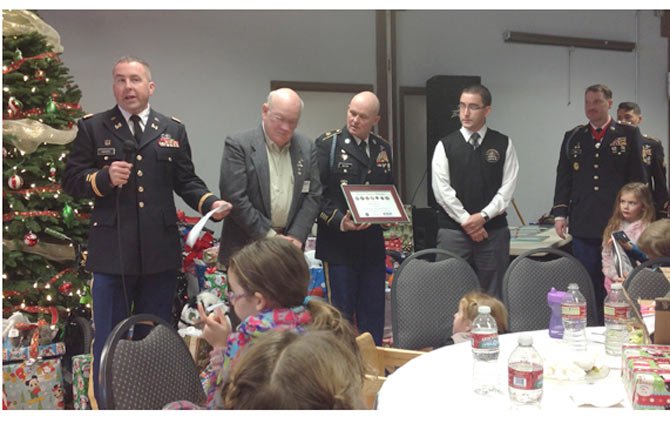 Honored for their work with a Seven Seals award are Brian Schmick, right, Safeway manager, with, from left, Capt. Jeffrey Sagan, Alpha Company commander, Les Cochenour, representative of ESGR, Employer Support for the Guard and Reserve, Oregon Military outreach director of the state of Oregon, military unit coordinator for Alpha Company; 1st Sgt. Scott Nation, NCO for Alpha Unit. Also receiving the awards were Garry and Janna Hage, Hage Electric; Vickie Taskey and Mike Rinaudo, Portage Grill; and Robert Davis, Tableau Vivant Photography. Two award winners couldn't attend, Mike Urness, CH Urness Motors and James Dummer, McDonald's. Bob Stone of Bob Stone Freeway Auto Center also attended and presented a check for the Family Readiness Group. Contributed photos
Stories this photo appears in:

OREGON NATIONAL Guard's Alpha Company 3-116 Cavalry, based in The Dalles, celebrated Christmas Dec. 7 with a party at the Shilo Inn catered by the Portage Grill. In attendance were 49 families with children and a total of 127 soldiers. Only two families were unable to attend due to snowy weather.