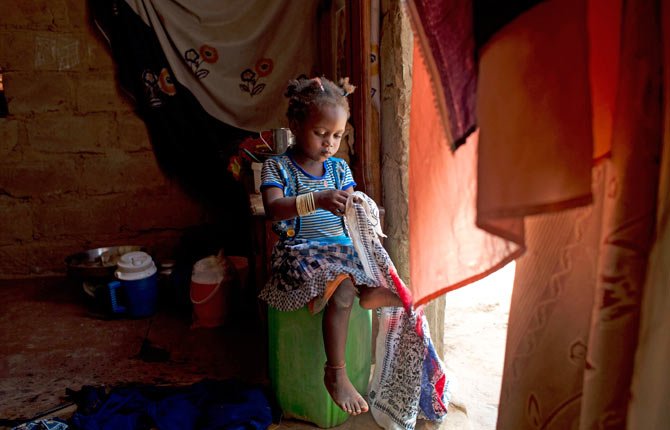 In this Oct. 10, 2013 photo, Four-year-old Fatou Ba, who was born with one leg shorter than the other, adjusts her sarong as she sits inside the one-room home she shares with her parents and brothers. Fatou's mother hasn't yet had the heart to tell her that her older brother Ali, 7, was killed when a fire struck the Dakar shack where he was sleeping along with other Quranic students. Tradition, as well as poverty, dictate that Fatou's surviving brothers will also be sent to Quranic boarding schools, where they will face harsh living conditions and forced begging.
Stories this photo appears in:

NDAME, Senegal — Seven nights a week, 13-year-old Cheikhou and his younger brother Bamba would make their way to a wooden shack they shared with dozens of other barefoot child beggars, blanketing the floor with their tired bodies.