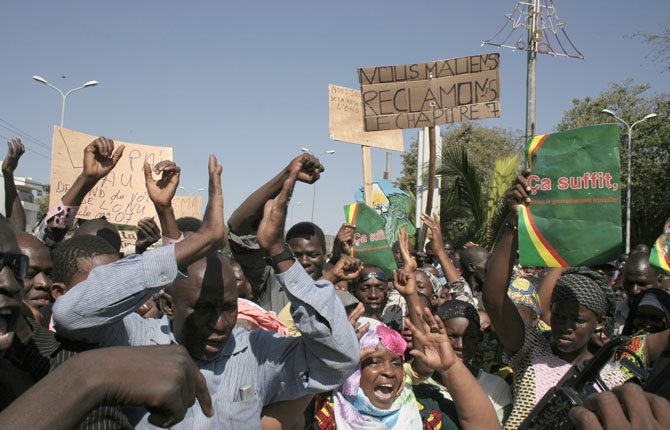 MALIANS DEMONSTRATE Dec. 8 in favor of an international military intervention to regain control of the country's Islamist-controlled north, in Bamako, Mali. They carry signs that say 'That's enough, let the government work' right, and 'We Malians Demand Chapter 7,' center, referring to the chapter of the United Nations Charter which would be used to authorize international military intervention. The spread of al-Qaida-linked militants across Libya, Algeria and Mali reflects a rise in local extremists who have been emboldened since the attack last Sept. 11 on a U.S. diplomatic post in Benghazi. AP Photo/Harouna Traore
Stories this photo appears in:

WASHINGTON (AP) — The United States is struggling to confront an uptick in threats from the world's newest jihadist hot spot with limited intelligence and few partners to help as the Obama administration weighs how to keep Islamic extremists in North Africa from jeopardizing national security without launching war.