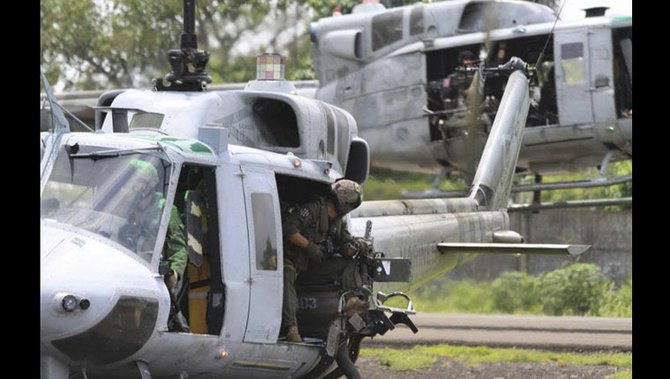 In this Aug. 22, 2012 file photo released by the U.S. Marine Corps, Staff Sgt. Travis A Jakovcic, a UH-1N Huey crew member with Marine Light Attack Helicopter Squadron 467 (HMLA-467) looks back at another aircrew during takeoff at the Guatemalan Air Force Base at Retalhuleu, Guatemala. AP Photo/U.S. Marine Corps, File
Stories this photo appears in:

The crew members aboard the USS Underwood could see through their night goggles what was happening on the fleeing go-fast boat: Someone was dumping bales. When the Navy guided-missile frigate later dropped anchor in Panamanian waters on that sunny August morning, Ensign Clarissa Carpio, a 23-year-old from San Francisco, climbed into the inflatable dinghy with four unarmed sailors and two Coast Guard officers like herself, carrying light submachine guns. It was her first deployment, but Carpio was ready for combat. Fighting drug traffickers was precisely what she'd trained for.