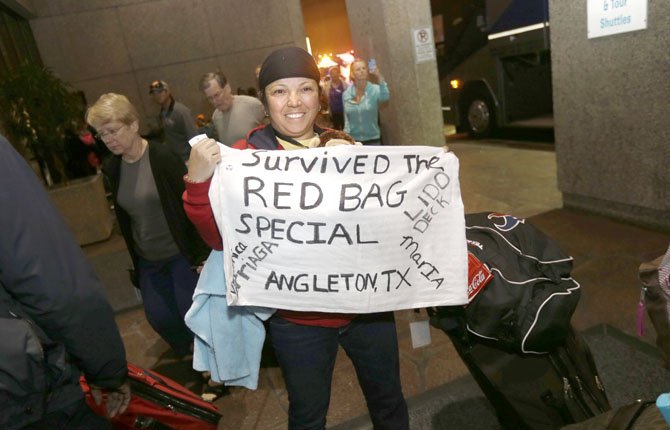 Veronica Arriaga, of Angleton, Texas, a passenger from the disabled Carnival Triumph cruise ship, holds a sign referring to the red biohazard bags used as toilets, after arriving by bus at the Hilton Riverside Hotel in New Orleans, Friday, Feb. 15, 2013. The ship had been idled for nearly a week in the Gulf of Mexico following an engine room fire.
Stories this photo appears in:

MOBILE, Ala. (AP) — Passengers who finally escaped the disabled Carnival cruise ship Triumph were checked into hotels early Friday for a hot shower, food and sleep or riding buses back to Texas after five numbing days at sea on a ship left powerless by an engine-room fire. The vacation ship carrying some 4,200 people docked late Thursday in Mobile after a painfully slow approach that took most of the day. Passengers raucously cheered after days of what they described as overflowing toilets, food shortages and foul odors.